PR Release
2nd June 2014 – On 30th May, Mario Kart 8 for Wii U launched simultaneously around the world to global acclaim, garnering some of the strongest review scores in the history of the series. Following this, Nintendo has today reported that the game sold more than 1.2 million* total units across Japan, Europe and The Americas from Thursday, 29th May to Sunday, 1st June.**

"Such positive early feedback for Mario Kart 8 reinforces the great gameplay experiences that Wii U currently offers," said Nintendo of Europe president Satoru Shibata. "With Nintendo set to showcase its future releases at E3 next week, this is a great milestone going into the summer season."

Prior to Mario Kart 8, the seven titles that have launched previously in the series have combined to sell more than 100 million total units, an average of more than 14 million units per title. This includes two of the best-selling video games of all time: Mario Kart Wii for Wii and Mario Kart DS for the Nintendo DS family of systems.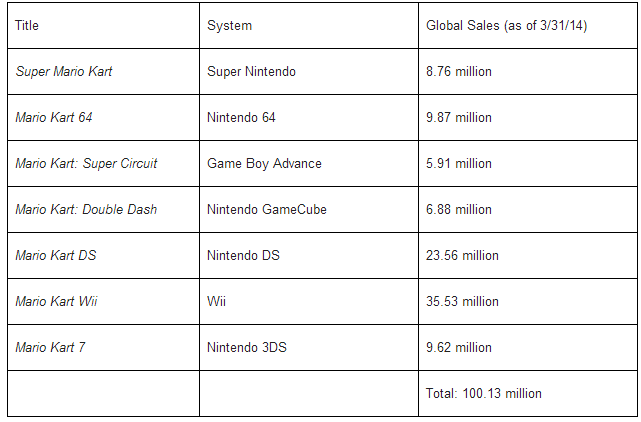 *Based on Nintendo's internal sales figures.

**Mario Kart 8 launched on Thursday, 29th May in Japan and Friday, 30th May across Europe and The Americas.

http://nintendoeverything.com/mario-kart-8-sells-over-over-1-2-million-units-worldwide-over-first-weekend/