trunkswd said:
Share the article here.
Switch vs PS4 Sales Comparison - Switch Lead Tops 8 Million in November 2020
This monthly series compares the aligned worldwide sales of the Nintendo Switch and the PlayStation 4.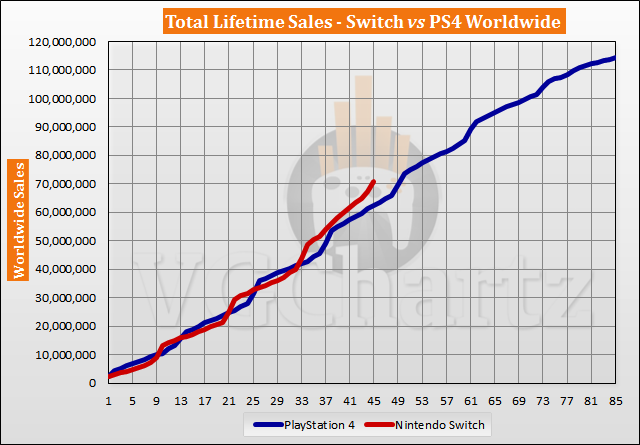 Switch Vs. PS4 Global:
Gap change in latest month: 2,524,090 - Switch
Gap change over last 12 months: 7,018,631 - Switch
Total Lead: 8,594,884 - Switch
Switch Total Sales: 70,903,631
PS4 Total Sales: 62,308,747
November 2020 is the 45th month that the Nintendo Switch has been available for. During the latest month, the gap grew in favor of the Switch by 2.52 million units when compared to the PlayStation 4 during the same timeframe. In the last 12 months, the Switch has outsold the PlayStation 4 by 7.02 million units. The Switch is currently ahead of the PlayStation 4 by 8.59 million units.
The PlayStation 4 launched in November 2013, while the Nintendo Switch launched worldwide in March 2017. Therefore, the holiday periods for the two consoles do not lineup, which is why there are big increases and decreases.
The 45th month on sale for the Nintendo Switch is November 2020, while for the PlayStation 4 it is July 2017. The Switch has sold 70.90 million units, while the PlayStation 4 sold 62.31 million units during the same timeframe. The PlayStation 4 did not reach current Switch sales until month 50.
The PlayStation 4 has sold 114.20 million units through November 2020. The Nintendo Switch is currently 43.30 million units behind the lifetime sales of the PlayStation 4.
Switch was already gaining ground on the PS4, even before COVID hit. Taking the past year into account, I think it's becoming obvious Switch is going to win this one. This is another scenario of the Switch being close at first but eventually taking off and leaving the other system in the dust. It may not be quite as dramatic as the Switch vs. 3DS chart, but the outcome is basically the same. Switch started strong and steady, but then it's sales really took off making the early years seem slow by comparison.