trunkswd said:
Share the article here.
Switch vs DS Sales Comparison - Switch Closes Gap by Over 1.6 Million in November 2020
his monthly series compares the aligned worldwide sales of the Nintendo Switch and the Nintendo DS.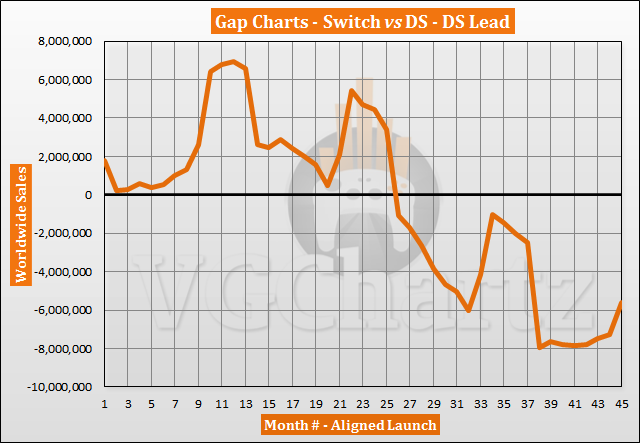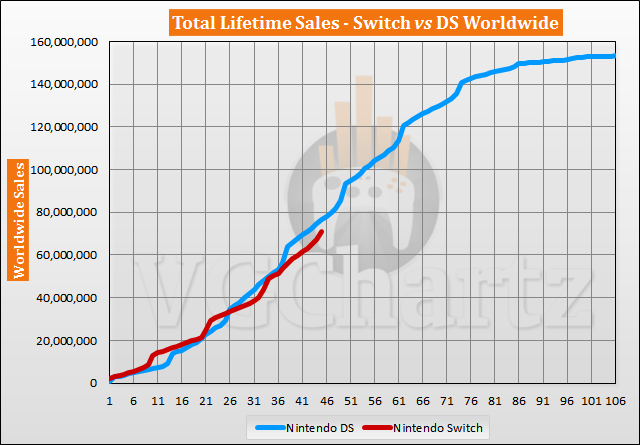 Switch Vs. DS Global:
Gap change in latest month: 1,673,519 - Switch
Gap change over last 12 months: 1,443,235 - DS
Total Lead: 5,601,393 - DS
Switch Total Sales: 70,913,631
DS Total Sales: 76,515,024
November 2020 is the 54th month that the Nintendo Switch has been available for. During the latest month, the gap grew in favor of the Switch by 1.67 million units when compared to the Switch during the same timeframe. In the last 12 months, the DS has outsold the Switch by 1.44 million units. The DS is ahead of the Switch by 5.60 million units.
The DS launched in November 2004 in North America, December 2004 in Japan, and March 2005 in Europe, while the Nintendo Switch launched worldwide in March 2017. Therefore, the holiday periods for the two consoles do not lineup, which is why there are big increases and decreases.
The 45th month on sale for the Nintendo Switch is November 2020, while for the DS it is July 2008. The Switch has sold 70.91 million units, while the DS sold 76.52 million units during the same timeframe. The DS reached current Switch sales in month 42.
The Nintendo DS sold 154.02 million units lifetime. The Nintendo Switch is currently 83.11 million units behind the lifetime sales of the DS.
That Switch is managing to stay somewhat close to the freaking DS never stops amazing me. Especially when it still hasn't had a price cut and is selling for what, twice, three times what DS cost by this point?
Bet with Liquidlaser: I say PS5 and Xbox Series will sell more than 56 million combined by the end of 2023. (And over 130 million lifetime)