To explain why I do that graphs in this thread: I'm interested in the success of the Vita. Yes, I'm owning more Nintendo-consoles at the moment, but I want to love the Vita - it is a great piece of hardware. So far it doesn't have enough games I interested in, but some more Atlus-RPGs might change that. Also competition makes NIntendo to try harder - something that is in the end good for me and other gamers. So I want the Vita to be successful.
But so far it doesn't look great for the Vita. But the good point is: Sony have shown, that they try hard to keep it afloat. It seems they will keep it that way in the future.
So most interesting is 3rd-party support. And for 3rd-parties it will be interesting how the sales for Vita develop. So I thought it would be interesting to compare the first year of the Vita with the second.
Vita sold around 3.5 million in it's first year (with later launch in europe and america). I say if it sell considerably worse in it's second year - not so good. Say if it sells under 3 million, Vita is really in trouble. If it sells around the same - 3 to 4 million - it's not good but probably Sony can keep it alive. If it sells better, say 4-7 million, some 3rd-party will support the system and it will much likely survive the whole gen. If it doubles sales (>7 million) it might become a success like the PSP. What do you think will happen?
But now to the graphs. First of all, global YTD and weekly sales (the weekly sales cover Jan-Dec):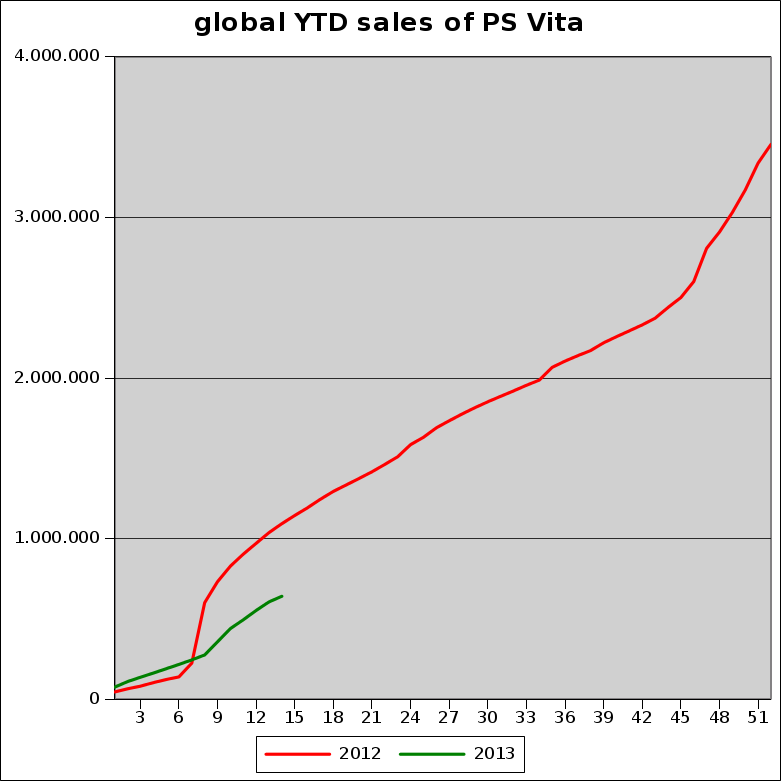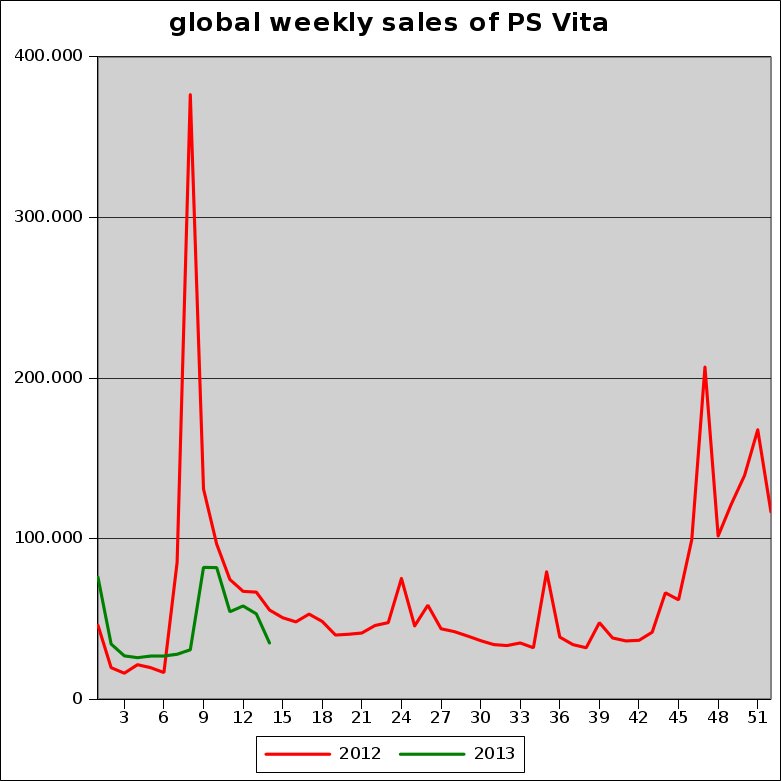 Don't forget, that Vita launched later in europe and the US.
USA: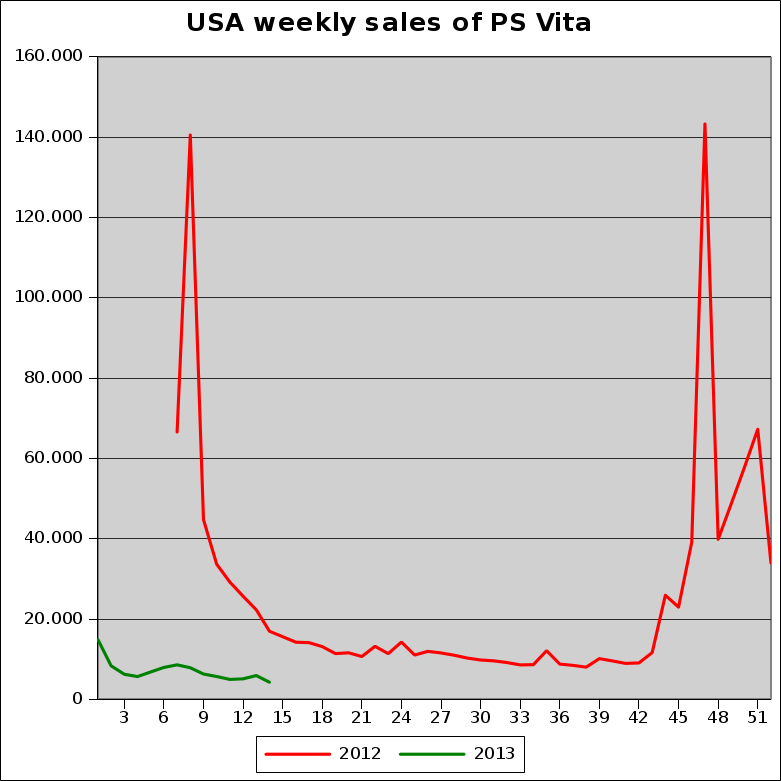 europe: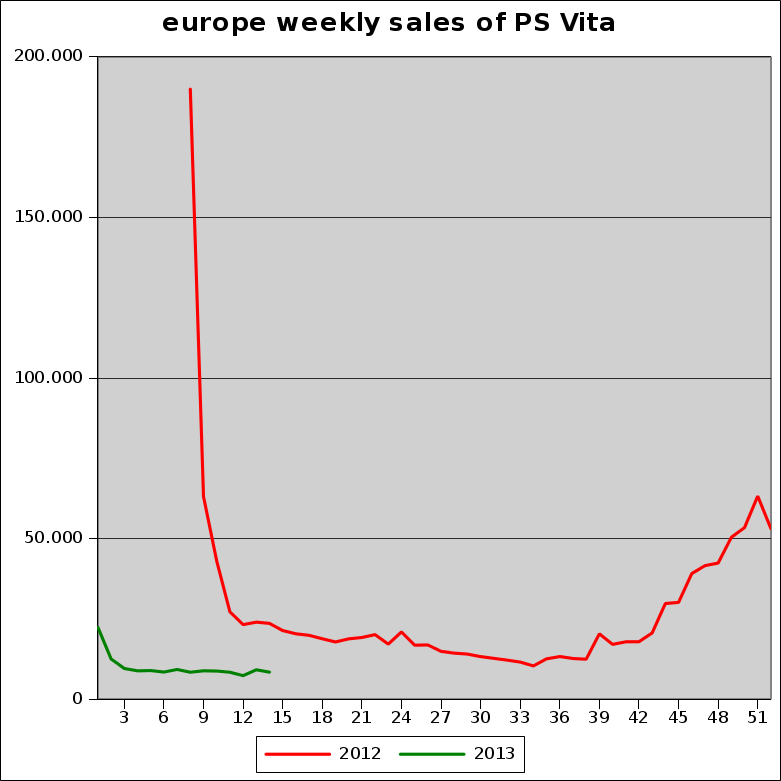 Japan: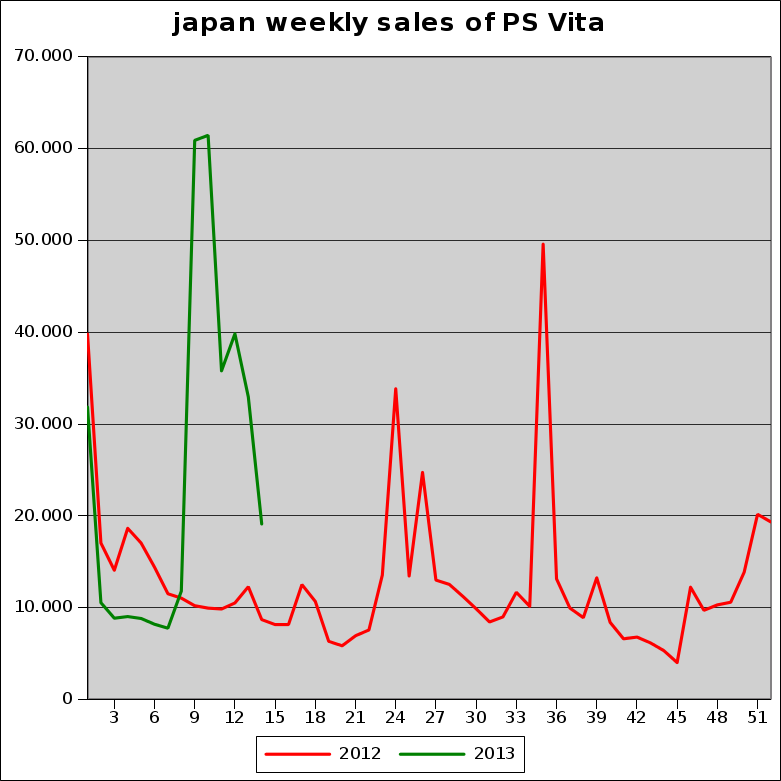 And I made a gap-chart for the global YTD-sales. That means I calculate YTD-sales-2013 - YTD-sales-2012 and display the development of this gap. A positive number means, the Vita sold 2013 more than 2012, a negative number it sold 2012 more.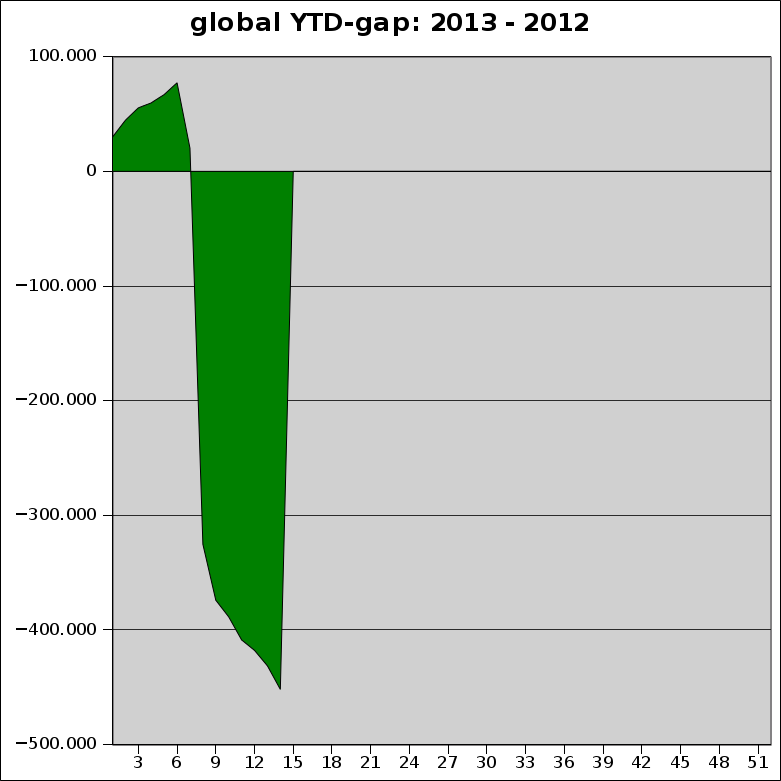 I will try to keep the graphs updated as the year goes on. All data from VGChartz. For everyone interested, the graphs are made with this file (use the free gnumeric to access).
Discuss the data and your expectations for the second year of the Vita.
3DS-FC: 4511-1768-7903 (Mii-Name: Mnementh), Nintendo-Network-ID: Mnementh, Switch: SW-7706-3819-9381 (Mnementh)
Why you will not convince me I have chosen bad consoles. / awesome Miiverse art / my greatest games list
Bet with platformmaster918 and ethomaz about PS3 overtaking Wii in total sales.
Predictions: Switch / Switch / Switch / MHWorld / GOW > BOTW / Switch vs. XB1 in the US