Mandalore76 said:
CGI-Quality said:
This makes PS5 the fastest selling console of all time.

Transcription of the image above:

Marvel's Spider-Man: Miles Morales: 6.5m
MLB® The Show™ 21: 2m across all platforms, 4m players
Returnal: 560k
Ratchet & Clank: Rift Apart: 1.1m

— Daniel Ahmad (@ZhugeEX) July 28, 2021
Make of that what you will. According to Zhuge, Wii didn't have that many consoles manufactured yet. If someone has better sourcing, it would help!
I don't see the Wii mentioned anywhere in Zhuge's tweet though. And the link to the Sony announcement is worded very carefully to state that it is the fastest selling console in Sony history, without mentioning all time console history.
PLAYSTATION®5 SURPASSES 10 MILLION UNITS SOLD, REMAINS THE FASTEST SELLING CONSOLE

IN SONY INTERACTIVE ENTERTAINMENT HISTORY
Since launching in November 2020,

PS5™ global sales have outpaced PlayStation®4, SIE's previous record holder for fastest selling console
PS5 is the fastest-selling console in the company's history and continues to outpace sales of its predecessor, PlayStation®4 (PS4™).
Wii launch 11/19/06 - 7/28/06 = 252 days to reach 10,169,429 units sold
PS5 launch 11/12/20 - 7/18/2021 = 249 days to reach 10,000,000+ units sold
Very important caveats to note:
I don't know what date the Wii crossed 10m units sold. But I do know that the Wii had a staggered launch (NA - 11/19/06, JP - 12/2/06, EU - 12/8/06), whereas the PS5 launched simultaneously Worldwide. So, the PS5 was drawing sales from Japan for about 2 weeks (13 days) longer than the Wii, and it was also drawing sales from EU (Sonyland) for almost 3 weeks (19 days) longer than the Wii. I think for these reasons, Sony themselves are making it clear that PS5 is the fastest selling PlayStation, without attempting to claim that it is the fastest selling console of all-time.
Adding this graph from ArsTechnica for perspective: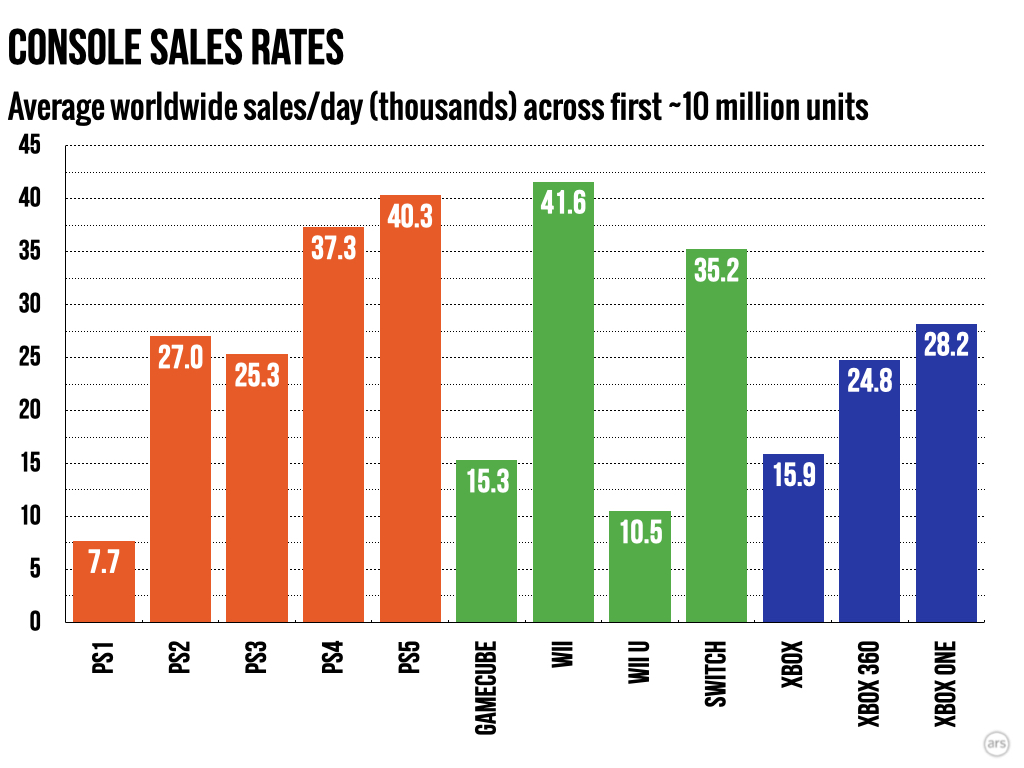 Also note that Nintendo when it reported it had gone over 10million units in abit over 9months..... that was shipped.
Playstation 5 sales of 10million are sold through numbers.
So even if they both had used the same amount of days, the PS5 would still have a lead of like 300-400k or something.
(I'm assumeing theres 300-400k PS5, being shipped around the world, and in transit, between warehouses, and in stores ect)

PS5 sold through 10m, quicker than Wii sold in (shipped) 10million, as well.

Anyways.... this might not continue much longer.
Its likely in the months to come, the PS5 falls behinde the Wii (I doubt it will keep staying ahead).