Welcome everyone to the VGChartz Sales Comparison Charts April 2021 Discussion Thread. This thread is a place for everyone to discuss the latest VGChartz monthly Sales Comparison articles for the month of April 2021. Everyone is welcome to post monthly articles I haven't done so yet. You can view the ones currently posted here.
Previous months:
You can read the complete first article and analysis here:
PS5 vs PS4 Sales Comparison - April 2021
This monthly series compares the aligned worldwide sales of the PlayStation 5 and PlayStation 4.
The PlayStation 5 launched in November 2020, while the PlayStation 4 launched in November 2013. This does mean the holiday periods for the two consoles do lineup.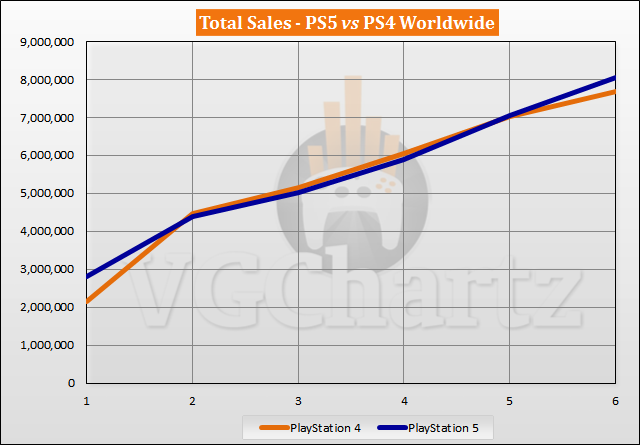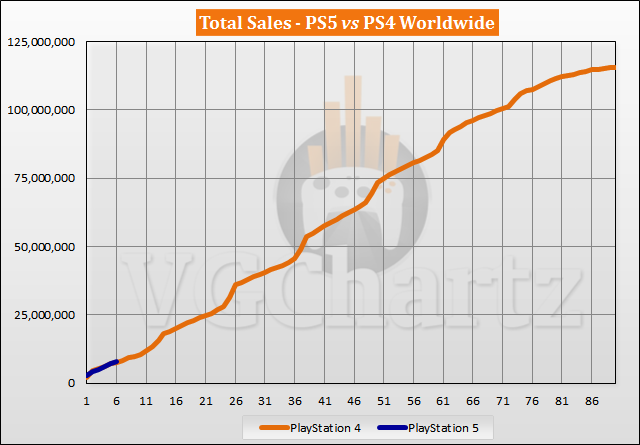 PS5 Vs. PS4 Worldwide:
Gap change in latest month: 314,200 - PS5
Total Lead: 358,070 - PS5
PlayStation 5 Total Sales: 8,039,717
PlayStation 4 Total Sales: 7,681,647
April 2021 is the sixth month the PlayStation 5 has been available for. In the latest month, the gap grew in favor of the PlayStation 5 when compared to the aligned launch of the PlayStation 4 by 314,200 units. The PlayStation 5 is currently ahead by 358,070 units.
The PlayStation 5 has sold 8.04 million units in six months, while the PlayStation 4 sold 7.68 million units. Month 6 for the PlayStation 5 is April 2021 and for the PlayStation 4 is April 2014.
The PlayStation 4 crossed 10 million units sold in month 10, 20 million in month 17, and 30 million in month 25. The PlayStation 4 has sold 115.52 million units to date.
Last edited by trunkswd - on 16 May 2021
VGChartz Sales Analyst and Writer - William D'Angelo - I stream on Twitch and have my own YouTube. Follow me on Twitter @TrunksWD.
Writer of the Sales Comparison | Weekly Hardware Breakdown | Top 10 | Weekly Sales Analysis | Marketshare Features, as well as daily news on the Video Game Industry.