Welcome everyone to the VGChartz Gap Charts March 2020 Discussion Thread. This thread is a place for everyone to discuss the latest VGChartz Gap Charts articles for the month of March 2020. Everyone is welcome to post Gap Charts articles I haven't done so yet. You can view the ones currently posted here.
Previous months:
You can read the complete first article and Analysis here:
Switch vs PS4 vs Xbox One Global Lifetime Sales – April 2020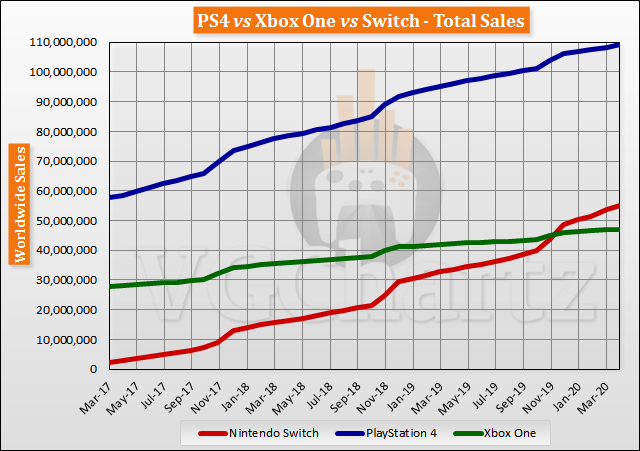 Looking at the total sales of the PlayStation 4, Xbox One, and Switch through April 2020 shows the Nintendo Switch continues to grow its lead over the Xbox One, while the PS4 nears 110 million units sold.
The PlayStation 4 passed the 109 million mark, the Switch passed the 55 million mark and the Xbox One passed the 47 million mark. The PS4 has sold 109.30 million units lifetime, the Switch 55.08 million units, and the Xbox One 47.14 million units.
Looking at the marketshare, the PlayStation 4 currently leads. The PlayStation 4 has a 52 percent market share, the Switch sits at 26 percent, and the Xbox One at 22 percent.
PlayStation 4 Total Sales: 109,304,067
Switch Total Sales: 55,084,445
Xbox One Total Sales: 47,136,856
During the month of April 2020, the Switch outsold the PlayStation 4 by 169,510 units for the month and the Xbox One by 964,143 units. The PlayStation 4 outsold the Xbox One by 794,633 units.
When you compare monthly sales to a year ago, the Switch is up, while the PlayStation 4 and Xbox One are down. The Nintendo Switch is up 429,457 units (+54.83%), the PlayStation 4 is up 219,389 units (26.63%) and the Xbox One is up 52,524 units (26.79%).
Looking at the marketshare, the Switch managed to achieve 48 percent of the monthly sales. The PlayStation 4 accounted for 42 percent of the consoles sold, and the Xbox One 10 percent.
PlayStation 4 Monthly Sales: 1,043,180
Switch Monthly Sales: 1,212,690
Xbox One Monthly Sales: 248,547
The PlayStation 4 and Xbox One launched in November 2013, while the Switch launched in March 2017.
As a reminder VGChartz tracks consoles sold to consumers and not units shipped.
VGChartz Sales Analyst and Writer - William D'Angelo - I stream on Twitch and have my own YouTube. Follow me on Twitter @TrunksWD.
Writer of the Sales Comparison | Weekly Hardware Breakdown | Top 10 | Weekly Sales Analysis | Marketshare Features, as well as daily news on the Video Game Industry.