UPDATE:
The game's Japanese Miiverse page has opened, and so the next step in our campaign begins.
From now on we'll be posting there asking for it to be localized. It has already begun...
@NintendoAmerica this is the JP miiverse boards for #zero_nuregarasu_no_miko these are the most popular posts :) pic.twitter.com/aToxg4X2Ha

— Big Zero (@0perationZer0) September 27, 2014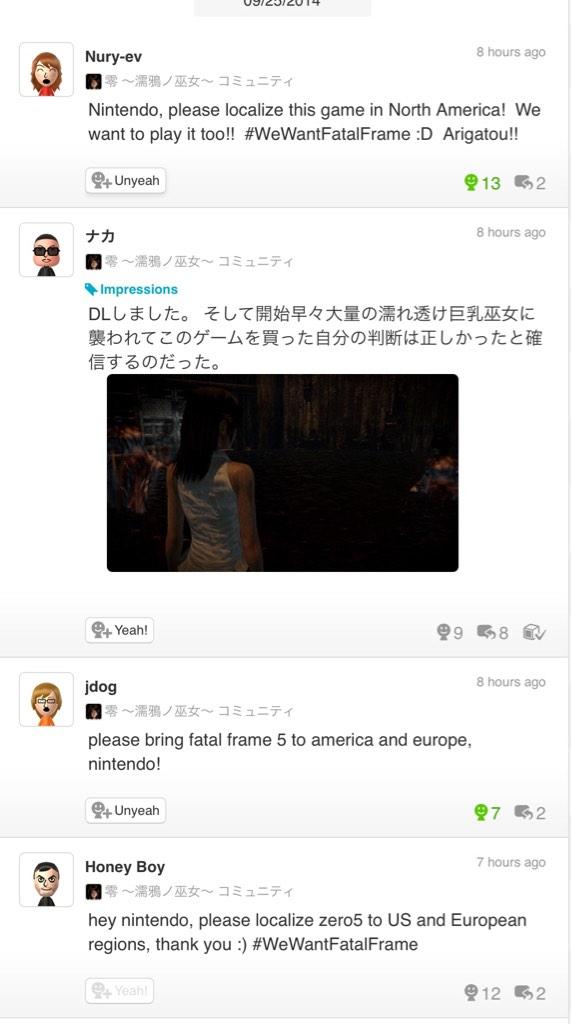 ORIGINAL POST:
In addition to the online petition that's being passed around, ( https://www.change.org/en-AU/petitions/nintendo-of-japan-north-america-localize-and-release-fatal-frame-on-wii-u-worldwide ) the next step in the push to get Fatal Frame 5 for Wii U localized in the West is a Miiverse campaign, since Nintendo has shown more inclination to pay attention to these.
The plan is to go to the Miiverse forum for Spirit Camera: The Cursed Memoir on 3DS, (the only game in the series to have its own Miverse page so far) and post messages asking for FF5 to be released worldwide. Also "yeah" other posts asking for it. Once a Japanese page opens for FF5, we'll continue there.
It'll only take a few minutes of your time, and it might just help secure us an awesome exclusive.