I live in a fairly big and famous city (New York), but just posting the Empire State Building and Statue of Liberty feels kind of like cheating. So instead, here are some pictures of the neighborhoods where I live and sometimes frequent, a few miles away from Manhattan.
This is a park a few blocks from my old apartment. Parks of various sizes cover a fair amount of the land around here (NYC as a whole is about 10% parkland). This one in particular is called "Doughboy Park," in honor of local soldiers who fought and died in the Great War. There's a monument behind the photographer, but this picture does a better job of showing what more of the park is actually like.
This is a typical "subway" station in Queens country. Note that outside of Manhattan, much of the subway system is actually above ground, typically in railroads elevated above the ground, literally running above the streets. This is part of the "7" line, which connects the far northeast parts of New York City to the middle of Manhattan. During a typical subway trip, you will see a gradual shift in who is riding, with much of the city's Chinese population living in the east, more kids in the center of the route travelling to school, and more professionals riding the line between their Manhattan jobs and Queens residences.
This is a section of the so-called "Cavalry" cemetery, named after the "Mount Cavalry" where some believe Jesus was crucified. With around 3 million burials across an area of 1.4 square km, it has the most residents of any cemetery in the country. The existence of such cemetaries inside of New York City surprises some people who expect it to all be overcrowded towers, but this is just one of several major cemetaries in the Borough of Queens.
This is a section of Roosevelt Avenue. Though a few highways run through this area, Roosevelt Avenue is one of the what can be considered several "main streets" that people can actually walk around. Note the road sign that says "Little Manila Avenue." That's just a mock up, but a good section of Woodside is called Little Manila due to a significant Filipino population. In total, Whites are about 20% of the population, Hispanics are 35%, and Asians are 40%, with groups like Blacks and American Aborigines being less than 5%
This is one of the buildings that shows the area's ethnically complicated history. As late as the 1930's, the neighborhood was 80%+ of Irish descent, and some of the stores and eateries in the area still reflect that. This place dates back to the 1960's.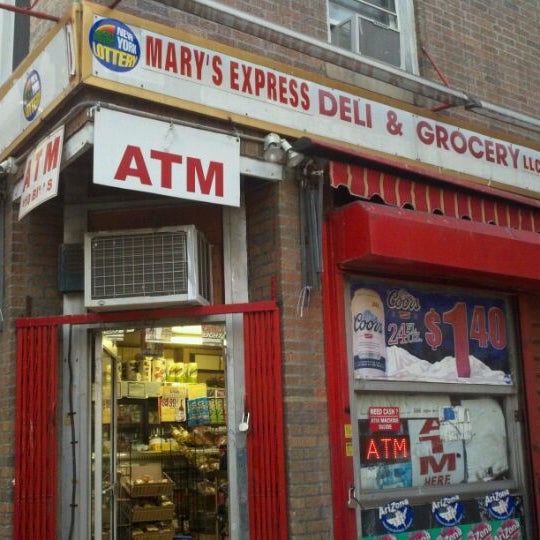 Another symbol of Woodside's past is the humble bodega. These little shops are a mishmash of convenience stores, groceries, and delis. Historically, bodegas were founded by Hispanics in Hispanic-heavy neighborhoods, and would serve as de facto community centers where people would get together, talk, eat lunch together outside on the bench, pull out a chess board and play for a while, etc. Nowadays, they serve a different yet related role, as being a place where people from different backgrounds and walks of life run into each other and, if not bond, at least get a better understanding of their often very different neighbors.