curl-6 said:
trunkswd said:
Read the article here. Be sure to share it as it could lead to more people joining the website.
Switch vs Wii – VGChartz Gap Charts – March 2020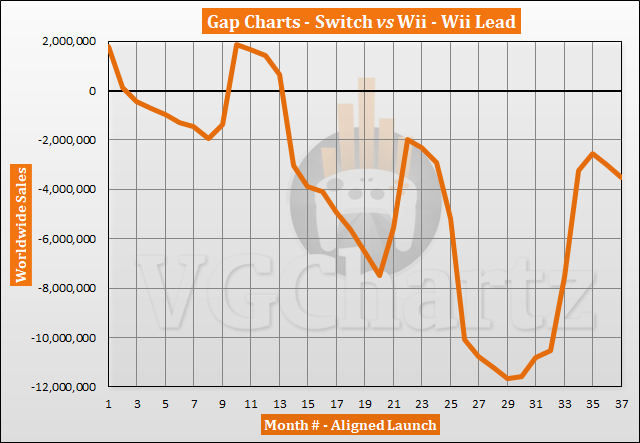 Switch Vs. Wii Global:
Gap change in latest month: 513,703 - Wii
Gap change over last 12 months: 1,663,175 - Switch
Total Lead: 3,518,066 - Wii
Switch Total Sales: 53,733,752
Wii Total Sales: 57,251,818
March 2020 is the 37th month that the Nintendo Switch has been available for. During the latest month the Wii grew its lead over the Switch by 513,703 units. In the last 12 months the Switch has outsold the Wii by just 1.66 million units. The Wii is currently ahead of the Switch by 3.52 million units.
The Wii launched in November 2006, while the Nintendo Switch launched in March 2017. The Switch has sold 53.73 million units, while the Wii sold 57.25 million units during the same timeframe.
The 37th month for the Nintendo Switch is March 2020 and for the Wii it is November 2009.
The Wii sold 101.63 million units worldwide during its lifetime. The Switch needs to sell another 47.90 million units to outsell the Wii.
Holy moly, the Wii was in it's 2009 holiday season at this point, and the Switch is roughly keeping pace with it... in March.
The gap was over 10 million just 6 months ago, now it's just 3.5 million...
The power of Animal Crossing and people staying at home.
VGChartz Sales Analyst and Writer - William D'Angelo - I stream on Twitch and have my own YouTube. Follow me on Twitter @TrunksWD.
Writer of the Sales Comparison | Weekly Hardware Breakdown | Top 10 | Weekly Sales Analysis | Marketshare Features, as well as daily news on the Video Game Industry.