Global Hardware by Platform
| Platform | N. America | Europe | Japan | Global |
| --- | --- | --- | --- | --- |
| | 838,643 | 108,501 | 1,647 | 982,471 |
| | 447,734 | 198,973 | 34,558 | 752,337 |
| | 274,389 | 147,560 | 162,117 | 615,127 |
| | 448,213 | N/A | N/A | 470,099 |
| | 308,871 | 56,482 | 3,799 | 387,463 |
| | 281,747 | 38,945 | 433 | 332,879 |
| | 135,653 | 48,818 | 9,706 | 200,397 |
| | 12,478 | 8,130 | 16,723 | 52,488 |
USA Hardware by Platform
Platform
Weekly

(change)

Total
X360
807,798

(+231%)

36,997,669
PS3
429,721

(+281%)

22,884,945
WiiU
411,850

(N/A)

411,850
Wii
296,890

(+355%)

40,132,061
DS
268,266

(+419%)

51,780,394
3DS
261,997

(+176%)

6,542,711
PSV
129,407

(+231%)

1,050,659
PSP
11,953

(+268%)

19,595,882
Total
2,617,882

(+329%)
UK Hardware by Platform
Platform
Weekly

(change)

Total
X360
43,138

(-13%)

8,355,376
3DS
39,583

(+34%)

1,542,107
PS3
34,181

(+31%)

5,312,614
Wii
10,860

(+42%)

8,606,506
DS
9,386

(+48%)

13,038,604
PSV
9,345

(+23%)

248,090
PSP
1,044

(+18%)

4,461,615
Total
147,537

(+16%)
but ethomaz posted official sony numbers for north america which show a huge difference to vgchartz numbers:
ethomaz said:
Sony have to show the truth...

"Sony sold over 525,000 PlayStation 3s and 160,000 PS Vitas in North America during the week of Black Friday (Nov. 18-24), it has announced."

UNDERTRACKED!!! I know that.
There are something wrong with vgchartz in the latest chartz... adjustments every week.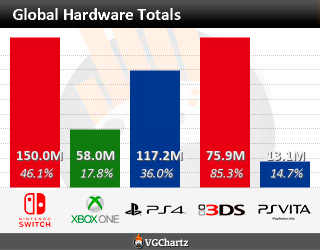 USA Software:
| | | | | |
| --- | --- | --- | --- | --- |
| 1 | | 674,076 | 4,080,668 | 2 |
| 2 | | 483,609 | 11,022,813 | 108 |
| 3 | | 412,019 | 2,354,390 | 2 |
| 4 | | 397,755 | 3,303,929 | 3 |
| 5 | | 370,128 | 810,827 | 7 |
| 6 | | 316,344 | 316,344 | 1 |
| 7 | | 299,731 | 299,731 | 1 |
| 8 | | 279,856 | 1,208,546 | 4 |
| 9 | | 265,611 | 1,502,540 | 4 |
| 10 | | 257,239 | 257,239 | 1 |
| 11 | | 245,636 | 711,209 | 54 |
| 12 | | 240,719 | 36,436,708 | 314 |
| 13 | | 236,399 | 12,890,561 | 174 |
| 14 | | 202,266 | 202,266 | 1 |
| 15 | | 184,365 | 981,673 | 59 |
| 16 | | 147,069 | 2,636,180 | 108 |
| 17 | | 138,919 | 476,540 | 5 |
| 18 | | 130,498 | 1,342,566 | 13 |
| 19 | | 130,442 | 130,442 | 1 |
| 20 | | 129,457 | 2,836,212 | 54 |
| 21 | | 125,285 | 1,855,512 | 56 |
| 22 | | 122,050 | 122,050 | 1 |
| 23 | | 117,994 | 117,994 | 1 |
| 24 | | 116,165 | 1,019,582 | 14 |
| 25 | | 106,234 | 1,077,432 | 13 |
| 26 | | 105,477 | 894,989 | 8 |
| 27 | | 95,342 | 95,342 | 1 |
| 28 | | 91,394 | 91,394 | 1 |
| 29 | | 89,646 | 1,246,715 | 7 |
| 30 | | 88,509 | 1,268,971 | 183 |
UK Software
| | | | | |
| --- | --- | --- | --- | --- |
| 1 | | 179,241 | 1,173,070 | 2 |
| 2 | | 121,433 | 759,606 | 2 |
| 3 | | 72,002 | 72,002 | 1 |
| 4 | | 61,068 | 61,068 | 1 |
| 5 | | 54,403 | 504,896 | 3 |
| 6 | | 38,327 | 182,356 | 8 |
| 7 | | 33,638 | 1,079,623 | 9 |
| 8 | | 32,523 | 335,508 | 4 |
| 9 | | 24,959 | 244,618 | 4 |
| 10 | | 22,074 | 22,074 | 1 |
| 11 | | 21,373 | 844,011 | 9 |
| 12 | | 15,185 | 94,420 | 6 |
| 13 | | 14,276 | N/A | 107 |
| 14 | | 14,224 | 14,224 | 1 |
| 15 | | 13,858 | 114,541 | 5 |
| 16 | | 13,370 | 192,371 | 15 |
| 17 | | 13,135 | 115,824 | 7 |
| 18 | | 11,981 | 61,921 | 4 |
| 19 | | 11,905 | 72,594 | 6 |
| 20 | | 11,703 | 71,505 | 4 |
| 21 | | 11,662 | 44,083 | 5 |
| 22 | | 11,134 | 901,509 | 55 |
| 23 | | 10,521 | 62,817 | 4 |
| 24 | | 10,395 | 16,930 | 2 |
| 25 | | 9,854 | 635,988 | 59 |
| 26 | | 9,823 | N/A | 105 |
| 27 | | 9,408 | 168,004 | 7 |
| 28 | | 9,402 | 113,157 | 54 |
| 29 | | 9,039 | 104,297 | 5 |
| 30 | | 8,685 | 53,704 | 5 |