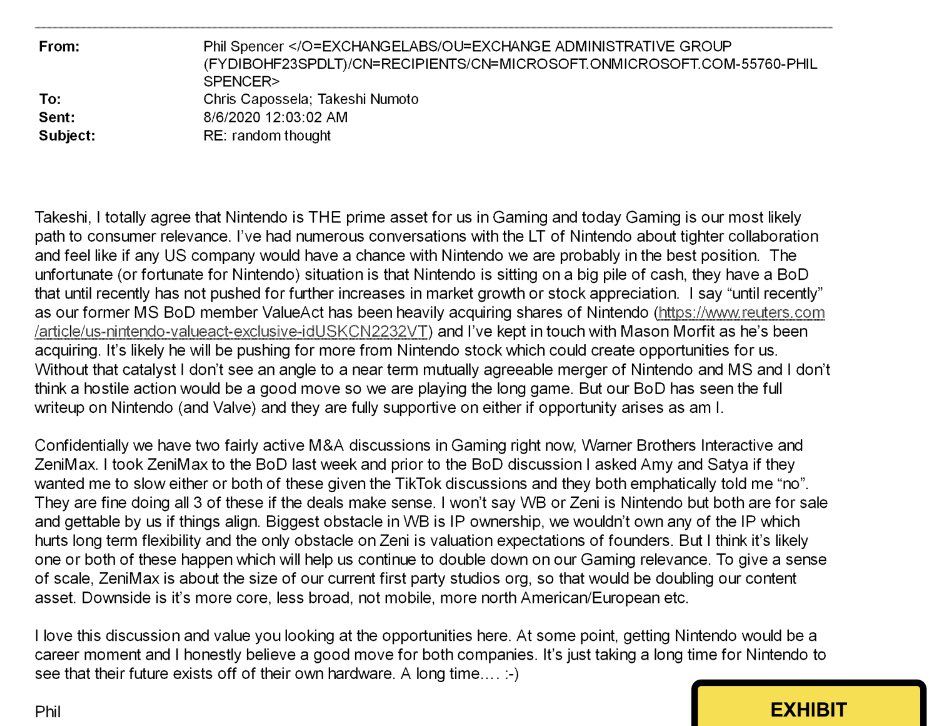 How pompous.
Literally the entire handheld industry is living off the Switch success, many Japanese publishers wouldn't be where they are right now if it wasn't for Nintendo's hardware.
"A career moment for me"? Buying Apple would a career moment for me, I just need some 100 trillion dollar to overcome a final minor hurdle

Besides giving interviews every hour and spending daddy's money, what is Phil's resume? Yet he thinks he knows what's best for Nintendo

Not that I am expecting more, this is the company's DNA, wait for growth to happen and join the party later, little to no idea on how to create it.
EDIT:
From the same email, Phill: "Gaming is our most likely path to consumer relevance", well it certainly isn't the NEW Bing, aka the borrowed ChatGPT, that now has LESS market share than the old Bing had.

MS can't let ABK go because the TikToc generation don't use their products and find it more natural to get computing done on Android/iOS than they do on Windows. This is a fight for relevancy, because it certainly isn't innovation that will win MS consumers back, it would too much of a career moment for Phil and Satya to handle.
Last edited by LurkerJ - on 19 September 2023