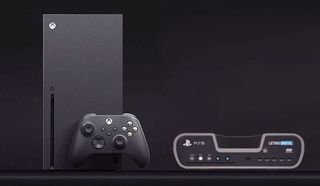 So MS released bunch of new info regarding xbox series X which was already known, yet it was enough to send fanboys on the internet into frenzy, even though they haven't given out any details that we already didn't know about, nothing yet on amount of RAM, clock speed, gpu specs etc.. but i digress. My point is what is Sony thinking are they misreading the market or they are just not ready with the system. I am not saying that 2006 arrogant sony is back, but the silence over PS5 is getting really annoying, this reminds of the quote by KAZ during ps3 reveal "next generation doesn't start untill we say it does".
What is going at Sony? I conjured up few scenario based on the words going around on the web.
1. Sony is not ready to reveal PS5 and waiting game to see what MS does regarding the price?
If they are not ready why even do a wired interview? and if they are playing the waiting game to see what MS is going to price their console, than it just doesn't make any sense.. coz MS is not going to announce the price before e3 2020 and i doubt sony will wait till JUNE to give new details about PS5.
2. Its under powered and Sony is afraid that it will get negative press and set a narrative of 12 vs 9 tf
If its under powered than no amount of delaying the reveal is going to control the damage. it is bound to happen, like it did with Xbox one and PS4. Just reveal the hardware and then for the rest of the year rely on showcasing your strongest asset which are exclusives.
3. It is as powerful or more powerful than series X, and again waiting to see what MS TF numbers are.
Same as point 1. why wait? i m sure that internally these guys know each others target performance will be. not to mention during ps4 it was Sony who came out first and announced their TF number. If Sony were waiting on MS to confirm the TF number.. then hear we go we have the number and vague details, nothing is stopping Sony giving out the same details and reveal the console, and announce the price around E3
My theory is that, the rumors that sony were planning a 2019 release were true. And the people involved like andrew house, Yoshida, Kaz, shawn layden were the ones who were planning a 2019 release.. And higher Exec saw that 2019 ps5 will be severely under powered in a years time by series x they had to restructure the entire project and reshuffle those incharge.
So maybe the new guys. Herman, Jim Ryan were caught off guard on the best way to reveal PS5 and pulling out of e3 didnt help either. So hopefully for the sake of gamer's I do hope Sony messes up this gen and feel the heat from Xbox.
EDIT
This is just a discussion, not an analysis on how off base I am, everything above is based on speculation and observation, Just wanna know what you guys think why SONY is being quiet.
Last edited by taus90 - on 25 February 2020