JRPGfan said:
Shiken said:
I was talking about the console itself. If we are going to talk about price point, once again MS dropped the ball. You can claim that had MS priced more competitively and did not make the X1 a PR nightmare that the PS4 would have still sold more, but you have zero evidence to back it up. For the majority of its first two years it got mostly cross gen games and had no major exclusives until Bloodborne over two years later. This is something that has been proven true by even Sony fans calling it the indie station 4 and what not.
What is also fact is that before the X1 reveal, the majority of people on the net were more hyped about the next XBox than they were for the PS4. Once MS botched the reveal, and in turn the launch, it was only then that the tide would eventually shift in favor of the PS4.
I am not saying the PS4 would do worse than PS3, but I am saying the X1 would have heavily cut into its sales. But due to the competition shooting themselves in the foot, the race was over before it began, making it extremely easy to sell as well as it did.
At the end of the day, Switch is selling great and PS4 is selling great. All this pointless debate of why or who had it easier is dragging on way longer than it needs to, so unless someone can actually give me decent point worth debating, I am done diving down this rabbit hole any further.
Theres some truth to this.
Old picture showcaseing the fact that Xbox had a slightly stronger 2013-2014: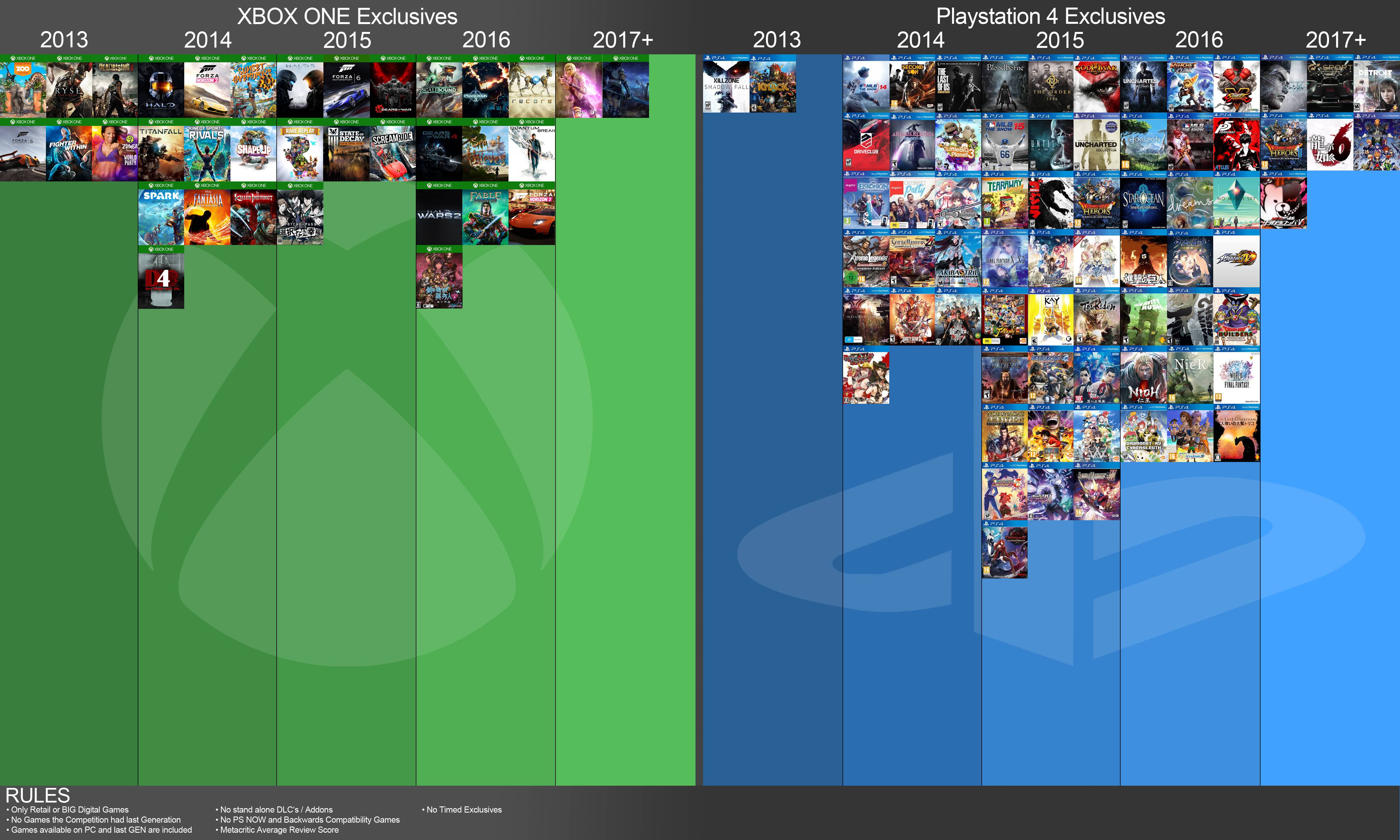 By today in 2019, the differnce in exclusives though is huge.
Oh absolutely, Sony offers way more now, not even close. And the quality is way higher as well. There is a reason my X1 is even less played than my WiiU lol.