Nintendo has had a bad history with third parties since there was a real competitor (Playstation). At that point, its Draconian contracts and its reliance on older technology became too much.

If you look at the top-selling games for each system, its been 80% Nintendo, 20% third-party for Nintendo consoles since the Gamecube generation (if not before). It was the inverse for the competing systems.

Most recently, this has been exacerbated by increasing hardware differences, making ports more difficult and less profitable (than compared to systems with similar architecture). The use of Nintendo products as a secondary console lessened the market for third-party multiplats. Finally, the demographic of those who have only a Nintendo console usually is not interested in the M-rated multiplats.

In a few cases, the publisher bears almost all blame as it almost tried to fail (e.g., EA). But other times the fault is mixed with some good games and some problem ones (e.g., Ubisoft, WBI), And some have just had to make business decisions (e.g., Activision).

Personally, I just enjoy the games and hope for more good ones.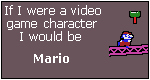 I am Mario.


I like to jump around, and would lead a fairly serene and aimless existence if it weren't for my friends always getting into trouble. I love to help out, even when it puts me at risk. I seem to make friends with people who just can't stay out of trouble.

Wii Friend Code: 1624 6601 1126 1492

NNID: Mike_INTV