Welcome to the offcial anime discussion thread! Winter 2016 edition.
Please read before posting
No NSFW content here. Images, videos or links to NSFW content will be met with zero tolerance from the mod team, keep it clean.

NSFW content includes straight full nudity or suggestive sexual poses. If you have to even think if its NSFW, just be on the safe side and dont post it.
Also refrain from asking for links to manga/anime hosting websites, linking to such websites is against the rules due to copyright concerns.

If you wish to view the full winter 2016 lineup, head here.
Credit to Myanimelist for the seasonal information.

Momokuri (ONA)

Plot Summary: The story revolves around Yuki Kurihara, a girl who has finally been granted her wish of dating her crush Momo. At first glance, she just looks like a normal but very cute girl. However, she is in fact a maniac over Momo, taking notes of his activities and never missing the chance to see him in a cute moment. Momo, on the other hand, is inexperienced in love, and just wants to make Yuki happy.
Genres: Comedy, Romance, Slice of Life
Shoujo-tachi wa Kouya wo Mezasu
Plot Summary: Buntarou doesn't know what he wants to do in the future. He does not have any kind of dream that he wants to pursue, so currently he just spends his days hanging around with his friends. One day, his classmate Sayuki asks him if he wants to help with development of a gal game. She says that she had become interested in his help after she read one his works intended for the drama club.

Buntarou doesn't know anything about gal games, but Sayuki claims that she has the ability to make it a success. Can they make the game, and will it be a success like she claims it will be? This is the story of youths taking a daring step into the unknown...
Genre: School, Comedy, Slice of Life
Ajin
Plot Summary: Ajin are humans that cannot die. Seventeen years ago, they first appeared on a battlefield in Africa. From then on, more of their kind are discovered within the human society. Their rarity in appearance means that, for experimental purposes, the government will generously reward anyone who captures one. In the present day, for what a certain high school student expects to be a typical summer holiday, his life is about to turn unexpected...
Genre: Adventure, Horror, Mystery, Seinen, Supernatural
Boku dake ga Inai Machi

Opinion: contains scenes that some viewers may find distressing
Plot Summary: Struggling manga author Satoru Fujinuma is beset by his fear to express himself. However, he has a supernatural ability of being forced to prevent deaths and catastrophes by being sent back in time before the incident occurred, repeating time until it is prevented. One day, he gets involved in an incident that has him framed as a murderer. Desperate to save the victim, he sends himself back in time only to find himself as a grade-schooler one month before fellow classmate Kayo Hinazuki went missing. Satoru now embarks on a new quest: to save Kayo and solve the mystery behind her disappearance.
Genre: Supernatural, Psychological, Seinen
Musaigen no Phantom World
Plot Summary: In the near future, spirits and monsters are in full sight. A boy leads a group of people with special abilities as they plot against a massive organization that takes advantage of a certain incident and eventually know the truth about their world in the process.
Genre: Action, Fantasy, Supernatural
Dagashi Kashi

Plot Summary: Shikada Kokonotsu's father owns a rural sweets shop, and his plan is for Kokonotsu to take it over one day. However, Kokonotsu wants to be a manga author instead! One day in summer, the cute but weird girl Shidare Hotaru, from the famous sweets company, comes to pay a visit. Apparently, Kokonotsu's father is famous and she wants him to join her family's company. However, he will only agree if she can convince Kokonotsu to take over the family business!
Genre: Shounen, Comedy
Hai to Gensou no Grimgar

Plot Summary: Why are we here? Why are we doing this?
Before Haruhiro had realized what happened, he was surrounded by darkness. Why was he here? Where was here? Even now, he still didn't know. Those around him were the same as him, no one remembered anything other than their own names. And when they emerged from the darkness, the world that awaited them seemed like something out of a video game.
Genre: Action, Aventure, Drama, Fantasy
Prince of Stride: Alternative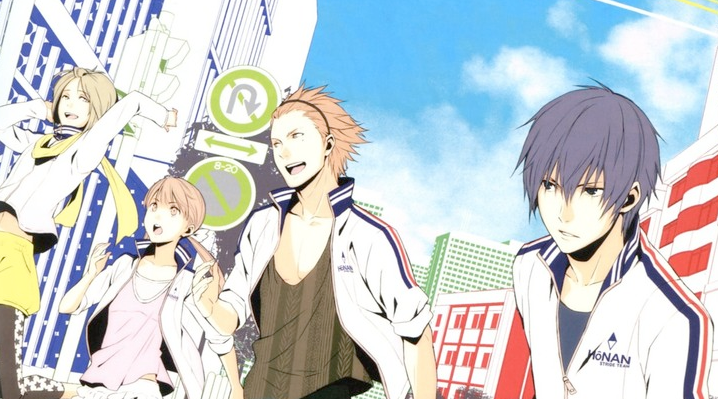 Plot Summary: The series is about an extreme form of sport known as "Stride." It involves 6 players on a team that runs relay races in towns. The story takes place at Honan Academy where first year high school students Takeru Fujiwara and Nana Sakurai try to recruit members for their "Stride" club. They request Riku Yagami to join with the help of Takeru and Nana. Their goal is to compete and win the "End of Summer," a top competition hosted in Japan alongside other schools.
Genre: Sports, Comedy
Dimension W
Plot Summary: In the year 2072, the world's energy problems seem solved by a network of cross-dimensional electric-field inductors—"coils"—that extract energy from a seemingly infinite source. That source is the W dimension, a fourth plane that exists beyond the X, Y, and Z dimensions.
In this world, unofficial "illegal" coils harness powers that the police can't hope to counter. Dealing with these coils is the job of coil-hating repo man Kyoma, whose run-in with the unique coil android Mira leads the two to form a reluctant partnership.
Genre: Seinen, Sci-Fi
Luck & Logic

Plot Summary: In the year L.C. 922, mankind faces an unprecedented crisis. Following the conclusion of a hundred-year war on the mythical world of Tetraheaven, the losing Majins sought a safe haven and invaded the human world Septpia. The government is forced to fight by employing Logicalists belonging to ALCA, a special police that protects the streets from foreigners of another world. Logicalists are given a special power that allows them to enter a trance with Goddesses from the other world.
One day, Yoshichika Tsurugi, a civilian who is lacking "Logic" and lives peacefully with his family, meets the beautiful goddess Athena while helping people escape from a Majin attack. She wields the "Logic" that Yoshichika that should have been lost. This leads Yoshichika to an unexpected destiny with Athena.
The future of the world depends on the "Luck" and "Logic" and these Logicalists.
Genre: Action, Fantasy
Koukaku no Pandora

Plot Summary: When Nanakorobi Nene, a cybernetically enhanced girl-next-door, heads to the island metropolis of Cenancle to live with her aunt, she has no way of knowing what's in store for her. A chance meeting intertwines her fate with that of the super-rich inventor, Uzal Delilah, and her adorable and grumpy companion, Clarion, who happens to be a cyborg just like Nene. Nene is thrilled to make a friend, but there's more to Uzal and Clarion—and the island of Cenancle itself—than meets the eye. When a super-powered terrorist threatens Cenancle, Uzal claims that the only way to avert disaster is for Nene to team up with Clarion and use their combined powers—abilities Nene never even knew she had.
Genre: Action, Comedy, Ecchi, Sci-Fi
Nijiiro Days

Plot Summary: The series details the lives of four main characters named Natsuki, Tomoya, Keiichi, and Tsuyoshi. They spend their days trying to have fun by finishing their studies and debating about romance. Natsuki, one of the main characters, has a crush on a girl named Anna at school, while others often get involved in their relationship.
Genre: Comedy, Shoujo, Slice of Life
HaruChika: Haruta to Chika wa Seishun Suru

Plot Summary: Haruta and Chika are members of their high school wind instrument club that is on the verge of being shut down. The two are childhood friends, and they spend their days practicing hard while also trying to recruit new members. When a certain incident happens within their school, they work together to solve it.
Genre: Mystery, Romance, Slice of Life, School
Kono Subarashii Sekai ni Shukufuku wo!

Plot Summary: The life of Satou Kazuma, a hikikomori who likes games, all too soon came to an end because of a traffic accident... It was supposed to, but when he woke up, a beautiful girl who called herself a goddess was in front of his eyes.
"Hey, I have got something a little nice for you. Wanna go to another world? You can take only one thing of your choice along with you."
"...then I'll take you."
From here on, the great adventure of subjugating the Demon King will begin for the reincarnated Kazuma... Or so one would think, but it's the labor for obtaining food, clothing and shelter that begins! Despite Kazuma wanting to live in peace, the goddess keeps causing problems one after another, and eventually, they attract the attention of the Demon King's army!?
Genre: Adventure, Comedy, Fantasy, Romance, Supernatural
Divine Gate

Plot Summary: When the Divine Gate opened, the living world, the heavens, and the underworld became connected, ushering an era of chaos where desires and conflict intersect. To restore order, the World Council is formed. As peace is restored, the Divine Gate becomes an urban legend.
In that world, boys and girls deemed fit by the World Council are gathered. They are ones who aim to reach the gate for their personal objectives. Those who reach the gate can remake the world.
What lies beyond the gate? When they reach the door, will the world change? Will it be the past that changes, or will it be the future?
Genre: Action, Fantasy, Sci-Fi
Bubuki Buranki
Plot Summary: When Azuma Kazuki returns to Japan after 10 years, he gets assaulted by a group of armed men and becomes their prisoner. Kogane Asabuki, a childhood friend, saves him with a weapon on her right hand known as Bubuki; a weapon with its own mind. Azuma Kazuki, who is a Bubuki user himself, learns about the existence of Bubuki and goes on a journey alongside the companions he has found, in an attempt to find and revive Oubu, a Buranki (titan) who sleeps underground.
Genre: Sci-Fi, Action
Durarara!!x2 Ketsu

Plot Summary: Ikebukuro is engulfed in a spiral of confusion. A group of individuals, each carrying the weight of their own past, gathers at Shinra's apartment, while in the city the Dollars, Yellow Scarves, and Saika contend for power. However, the situation takes a turn that no one could expect when Celty's head is revealed to the public, as this tale approaches its conclusion.
Genre: Action, Mystery, Supernatural
Ansatsu Kyoushitsu (TV) 2nd Season

Plot Summary: Class 3E is about to begin their second semester! And while some things have changed, the class assignment is still the same: kill their teacher before the end of the year! Easier said than done since Koro-sensei has made it clear he won't go down without a fight. Will these students be able to take down the tentacled monster that moves at Mach 20 before he can destroy the world?
Genre: Action, Comedy, School, Shounen
Gate: Jieitai Kanochi nite, Kaku Tatakaeri 2nd Season

Plot Summary: Second season of the Gate anime. Adapts Enryuu-hen, and Douran-hen arcs.
Genre: Action, Adventure, Military, Fantasy
Akagami no Shirayuki-hime 2nd Season

Plot Summary: N/A, Second season of Akagami no Shirayukihime.
Genre: Drama, Fantasy, Romance, Shoujo
If your favourite anime of the season doesnt appear here
If theres anything wrong in the OP or anything you wish to see added, then let me know via my wall or through twitter @Versus_VGC
Special thanks to Vance and the members that made the thread possible and keep it active.
Come Join The Official Anime Discussion-Nya