Firstly, remember to respect others opinions!
No Nsfw content here! keep it clean. For Nsfw content visit the Nsfw thread.
Do not ask for or post links to anime hosting websites, linking to such websites is against the forumn rules!
For manga related content please visit our sister thread found here.
See below for a few of my personal picks for what i think are ones to watch this Summer.
If you wish to view the full Summer 2016 lineup, head here.
Or click the + next to the show titles to go straight to that Myanimelist page.
Credit to Myanimelist for the seasonal information.

Planetarian: The Reverie of a Little Planet +
Studio: David Production
Director: Naokatsu Tsuda [Inu x Boku SS, JoJo's Bizarre Adventure + Diamand + Stardust + Stardust Season 2]
Synopsis: It is thirty years after the failure of the Space Colonization Program. Humanity is nearly extinct. A perpetual and deadly Rain falls on the Earth. Men known as "Junkers" plunder goods and artifacts from the ruins of civilization. One such Junker sneaks alone into the most dangerous of all ruins—a "Sarcophagus City." In the center of this dead city, he discovers a pre-War planetarium. And as he enters he is greeted by Hoshino Yumemi, a companion robot. Without a single shred of doubt, she assumes he is the first customer she's had in 30 years. She attempts to show him the stars at once, but the planetarium projector is broken. Unable to make heads or tails of her conversation, he ends up agreeing to try and repair the projector...
Watchable On: Funimation
Genres: Drama, Sci-Fi
Sweatness & Lightning +
Studio: TMS Entertainment
Director: Torou Iwasaki [Isshuukan Friends]
Synopsis: Kouhei Inuzuka is a teacher who has been caring for his little daughter on his own since his wife's death. He's no good at cooking, so he and his daughter Tsumugi have been eating packaged meals from the convenience store. A series of events lead him one evening to a restaurant run by the mother of one of his students, Kotori. Her mother isn't there, but Kotori does her best to feed them both. It turns out Kotori is often alone since her parents are divorced and her mother is frequently not around. The three of them begin to meet and cook tasty food together.
Watchable On: Crunchyroll
Genres: Comedy, Slice of Life
This Art Club Has A Problem! +
Studio: feel.
Director: Kei Oikawa [Yahari Ore no Seishun Love Comedy wa Machigatteiru. Zoku, Minami-ke Okaeri]
Synopsis: Kono Bijutsubu ni wa Mondai ga Aru! focuses on an art club in a certain middle school, and its members: Subaru Uchimaki, who is a genius at drawing faces, but only wants to draw the perfect 2D wife; Colette, a rich troublemaker who never stops making mischief; and the club president, who sleeps through sessions and collects sleeping aids. Mizuki Usami is the only person in the club who wants to do art club-like activities, and constantly struggles to do so.
Watchable On: Crunchyroll
Genres: Comedy, Romance, School
Orange +
Studio: Telecom Animation Film
Director: Hiroshi Hamasaki [Steins;Gate, Shigurui]
Synopsis: One day, Naho Takamiya receives a letter written to herself from ten years in the future. As Naho reads on, the letter recites the exact events of the day, including the transfer of a new student into her class named Kakeru Naruse.

The Naho from ten years later repeatedly states that she has many regrets, and she wants to fix these by making sure the Naho from the past can make the right decisions—especially regarding Kakeru. What's more shocking is that she discovers that ten years later, Kakeru will no longer be with them. Future Naho asks her to watch over him closely.
Watchable On: Crunchyroll
Genres: Drama, Sci-Fi, Romance, Shoujo
91 Days +
Studio: Shuka
Director: Hiro Kaburaki [Tonari no Kaibutsu-Kun, Kimi ni Todoke]
Synopsis: The time is 1920, five years after National Prohibition Law took place at a city called Lorel in the United States. Main character Avilo arrives to join the Vampiro family mafia undercover in order to seek revenge of killers who killed his parents and brother in this mafia. A Killing starts kills. Revenge starts new revenge. A story of vengeance and sorrow starts now.
Watchable On: Crunchyroll
Genres: Drama
New Game! +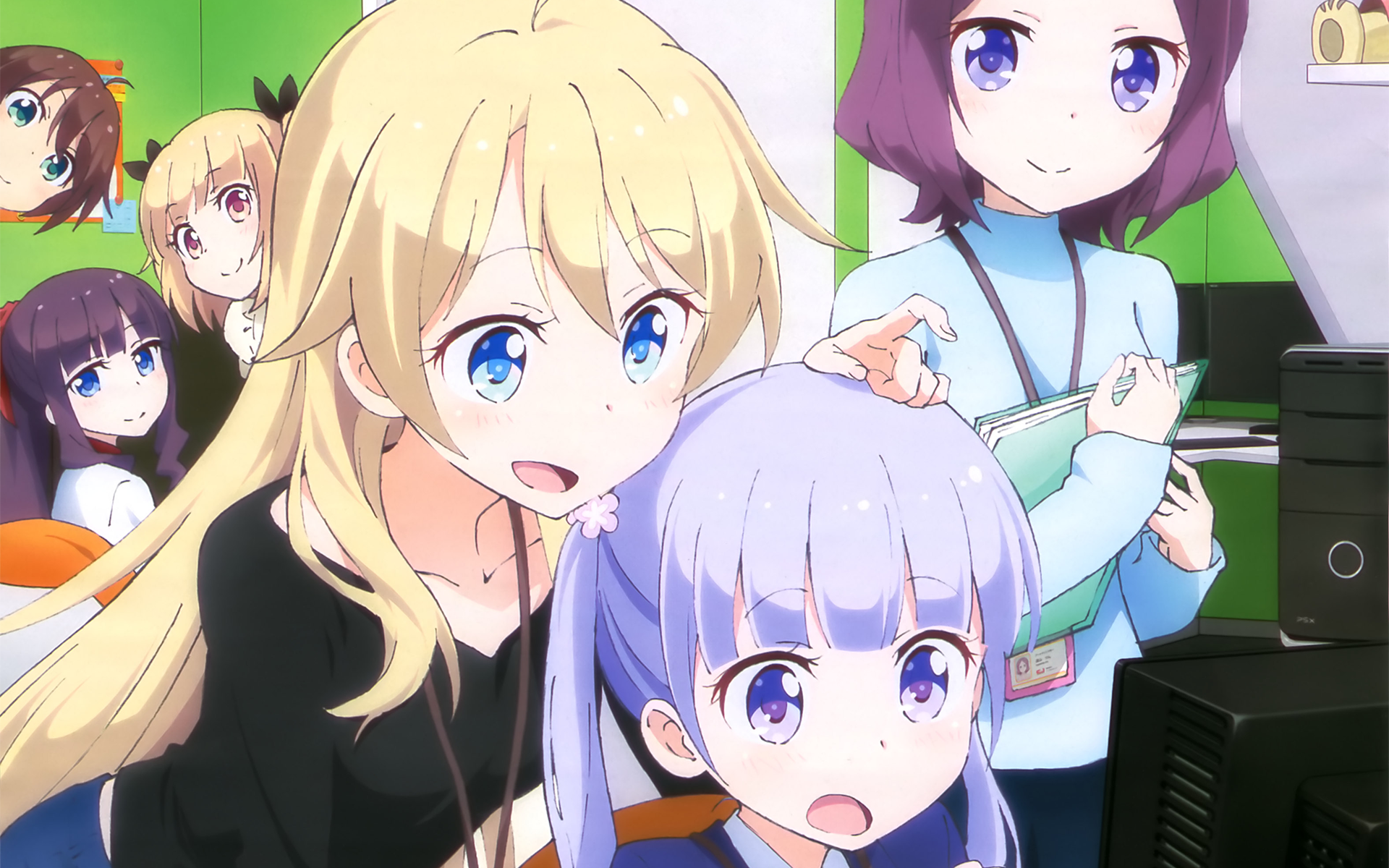 Studio: Doga Kobo
Director: Yoshiyuki Fujiwara [Plastic Memories, GJ-bu]
Synopsis: The main character Suzukaze Aoba graduates from high school and joins a game company. The person who made the game that Aoba loved as a grade-schooler just happens to be Aoba's senior at the company. The story follows girls who work and aspire at the Eaglejump company.
Watchable On: Crunchyroll
Genres: Comedy, Slice of Life
Mob Psycho 100 +
Studio: Bones
Director: Yuzuru Tachikawa [Death Parade]
Synopsis: Kageyama Shigeo (a.k.a. "Mob") is a 8th grader with psychic abilities. He could bend spoons and lift objects with his mind from a young age, but he slowly began to withhold from using his abilities in public due to the negative attention he kept receiving. Now, the only thing he wants is to become friends with a girl in his class, Tsubomi. With his psychic "mentor" (who has no psychic powers), he continues his daily life, attempting to realize his purpose in life.
Watchable On: Crunchyroll
Genres: Action, Comedy, Supernatural
Re: Zero -Starting Life In Another World +
Studio: White Fox
Director: Watanabe, Masaharu [Wakaba*Girl]
Synopsis: Suddenly, high school student Subaru Natsuki has been summoned to another world on the way back from the convenience store. With the biggest crisis of his life being summoned to another world, and with no sign of the one who summoned him, things become even worse when he is attacked. But when he is saved by a mysterious, silver-haired girl with a fairy cat, Subaru cooperates with her to return the favor. When they finally manage to get a clue, Subaru and the girl are attacked and killed by someone. Subaru then awakens in the place he was summoned and notices he gained the ability "Returns by Death" and has become a helpless boy that only has the ability to rewind time by dying. Beyond the despair, can he save the girl from the fate of death?
Watchable On: Crunchyroll
Genres: Drama, Fantasy
If your favourite anime of the season doesnt appear here, dont take it personally
Please direct any poll ideas you have to me through PM and ill add them to the weekly poll queue.
Special thanks to all the members that keep this thread active.