Torillian said:
When I said "making it's way to the West" I was including Europe in the West as I assumed most people do. While I think that Pandora's Tower will eventually make it's way to NA that's not what I meant in that article and make no claim about knowing one way or another.

If this thread was based on this line: "In some ways Pandora's Tower is actually the best of the three Wii JRPGs making their way to the West...." -- then we have spent a lot of time talking about nothing.
We know the game has been released in Europe (its been out about a month). We also know it is a very slow mover/small seller: 74k in Japan, 27k in Europe. Those numbers -- and not any review scores -- may prevent it from ever coming to North America.
(And as always, when someone askes why does NoA not release these games, I ask why did NoE release the games -- the one of which Nintendo released with a limited, exclusive deal outsold the total of Europe and the total of Japan (separately) in three weeks.
Mike from Morgantown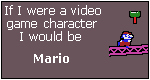 I am Mario.


I like to jump around, and would lead a fairly serene and aimless existence if it weren't for my friends always getting into trouble. I love to help out, even when it puts me at risk. I seem to make friends with people who just can't stay out of trouble.

Wii Friend Code: 1624 6601 1126 1492

NNID: Mike_INTV