In the PR news release about its official expansion into Latin America, Sony states:
...already consisting of an active worldwide install base of 21.3 million PLAYSTATION(R)3 (PS3(TM)) computer entertainment system ...
Ref: http://news.prnewswire.com/DisplayReleaseContent.aspx?ACCT=ind_focus.story&STORY=/www/story/02-20-2009/0004975832&EDATE=
That number is about 1M more than what VGChartz has the PS3 listed as selling. So there are three possibilities.
1. VGChartz has undertracked the PS3 (a less than 5% error).
2. Sony is quoting sales to stoores (which is what they know).
3. Sony misspoke (which happened by 10M on the PS2 sales).
My money would be on No. 2 -- but any of these or a combination thereof is possible.
Mike from Morgantown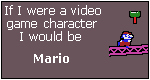 I am Mario.


I like to jump around, and would lead a fairly serene and aimless existence if it weren't for my friends always getting into trouble. I love to help out, even when it puts me at risk. I seem to make friends with people who just can't stay out of trouble.

Wii Friend Code: 1624 6601 1126 1492

NNID: Mike_INTV