HollyGamer said:
DonFerrari said:
Basically sub to one service that have most of the content you like and torrent whatever you want that isn't there.
I wonder what happens to the AAA video game industry when they've convinced us all not to spend $60 on games anymore because everything's on a damn subscription

— Jason Schreier (@jasonschreier) June 10, 2019
Subscription will kill triple A games and devalue the games to smartphones business mobile games LOL
I'm terrified of subscription style games, I really like closed games narrative driven ones.
LudicrousSpeed said:
HollyGamer said: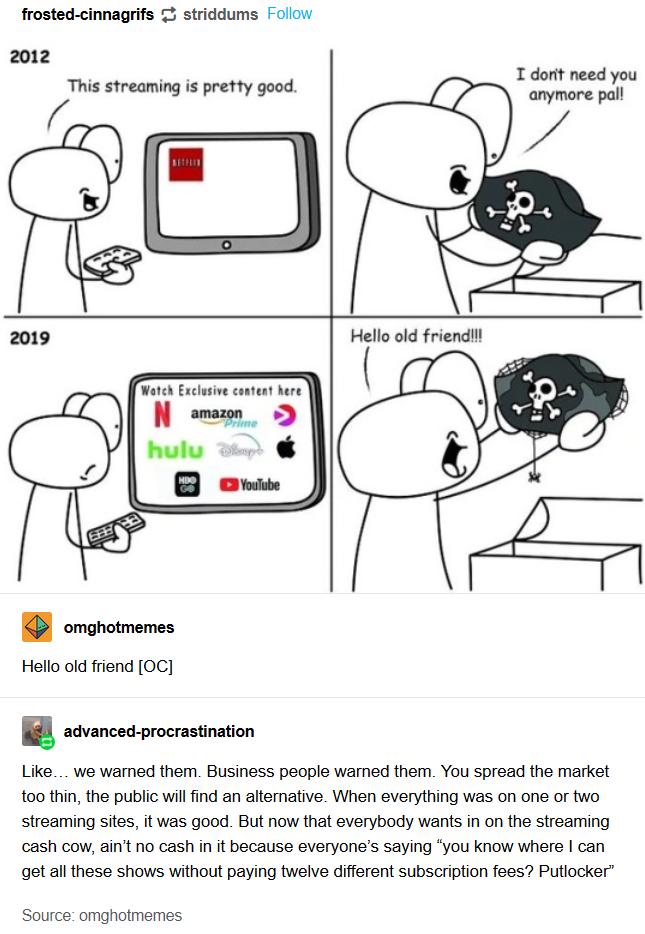 Pirates are going to pirate no matter what. Give a thief a chance to steal, they'll do it. There's no need to make up hypotheticals or anything for them, just give them a way to steal and it'll happen.


How does this relate to GamePass though? There's no exclusive content on GamePass and every game on it can be bought to own. It's the exact opposite of all of those streaming services.
Not really hypothetical, when Netflix showed up a lot of people stopped pirating (or reduced a lot and started paying for the sub) with the several number of different subs some have came back to it.

duduspace11 "Well, since we are estimating costs, Pokemon Red/Blue did cost Nintendo about $50m to make back in 1996"
http://gamrconnect.vgchartz.com/post.php?id=8808363
Mr Puggsly: "Hehe, I said good profit. You said big profit. Frankly, not losing money is what I meant by good. Don't get hung up on semantics"
http://gamrconnect.vgchartz.com/post.php?id=9008994
Azzanation: "PS5 wouldn't sold out at launch without scalpers."