Shadow1980 said:
the2real4mafol said:
It honestly wouldn't surprise me if he didn't know what socialism is to be honest. Easier to believe the propaganda on TV than question it, always. Alot of people who claim to hate socialism don't understand it nor bother to find out about it in depth.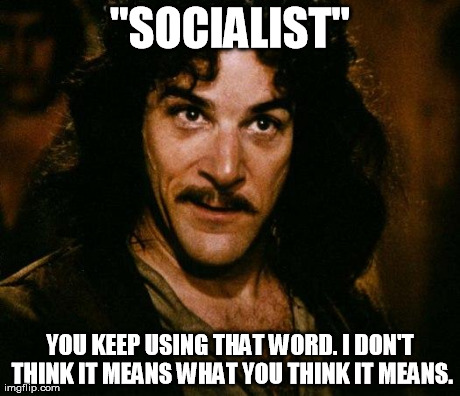 Most people don't know what "socialist" really means. Much like how George Orwell bemoaned how even in his time the word "fascism" had been devalued into a cheap insult, so too do we see in today's discourse the term "socialist" get devalued to a mere slur. Any person, group, or policy perceived to be to the left of Reagan is immediately denounced as "socialist," and sometimes even "communist" or "Marxist," as if those terms were completely interchangeable, which they're not (besides, I doubt those who use "Marxist" as their term of choice have probably never even read a synopsis of the Manifesto or the ponderous tome that is Das Kapital, much less the actual works themselves). But socialism is not progressive taxation, business regulations, the minimum wage, or liberalism or any of the other things conservatives hate. In the most general sense, "socialism" is defined as public ownership of the means of production, either directly (e.g., cooperatives, worker-owned factories) or by the state. There are many different varieties and sub-varieties (e.g., libertarian socialism, anarcho-socialism, democratic socialism, market socialism, Marxism & its offshoots), but public ownership is the single unifying element. Last I checked, liberals and Democrats weren't exactly pushing for every business to become a co-op, much less calling for outright nationalization of the whole economy. Even in the most liberal states in the Union, or even in that supposed bastion of socialism that is Europe, private businesses thrive. Point being, if anybody uses "socialist" to describe anything other than public ownership of the means of production, they're using it wrong, no ifs, ands, or buts.
I used to think socialism was the first bit you said but the more i looked into the subject the more i realise that it is not. However, i still agree with the idea that workers should control there industries for their own benefits. It worked in Argentina on a small scale, why can't it work on a international level? (a key part of most socialisms). I guess the welfare state and regulations of business are social democratic or liberal ideas. Stuff that wouldn't be needed in a socialist system.
But it's nice to see an American know what socialism is. Due to all the lies about it from countries like Russia which falsely used the term, to it's use as an insult like you said. It is greatly misunderstood.
Xbox One, PS4 and Switch (+ Many Retro Consoles)
'When the people are being beaten with a stick, they are not much happier if it is called the people's stick'- Mikhail Bakunin
Prediction: Switch will sell better than Wii U Lifetime Sales by Jan 1st 2018