50. Drakengard (PS2)
This is a JRPG, which explored the more mature side of emotions. Very dark atmopshere, and you will feel like your fighting an entire army alone. Very mature plot full of betrayal, murder, and talking dragons who only want to slaughter all humans. This is a very bloody game, and the narrative in the CG is very unexpected from Square Enix. I hope Cavia make some games of this quality in the future, I hear mixed things about Nier. Regardless, this JRPG is the darkest one I have ever played yet, and it's a perfect game to play for hours at a time, in the middle of the night. One of the best uses of music, and definatly the most bizarre story I have ever play in a JRPG.
49. Halo 2 (XB)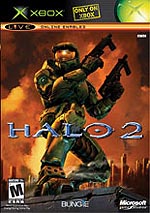 A more generic title for my list. Halo 2 is probably one of the best co-op games around. I would go as far as saying, that after Halo 1, it is the best co-op game of the 6th generation. Halo 2 made XBL what it is today. It got people off the PC, and got them to play multiplayer online with consoles. With a great story (which is rare in a shooter), and addictive gameplay, this is definatly of of the best games that generation 6 had to offer.
48. Front Mission 4 (PS2)
A proper turn based strategy JRPG on consoles. It's a real shame these games aren't too popular outside of Japan, Square Enix has been making Front Mission games faithfully since the days of SNES and they typically only get 200-300k in sales nowdays. Still like any war based anime, the plots in these games are full of political twists, and many levels are so deep they will take multiple hours to complete. Ontop of that mech customization in these games plays such an imortant role, you can make your mech look like almost anything, and as different characters have different strengths, they all should look different.
47. Fallout 3 (360)
Like all of Bethesdas recent games, Fallout 3 creates a believable open world RPG like no other. In every town, there are unique people, who each have their own goals in this post nuclear world. Some worship a giant nuke, others wish to detonate it for a nice show, and other just want zombie rights. This game just has so many side stories (which in the end take twice as long as the main plot to complete), which are all unique and interesting. On top of that, this game manages to merge shooters and RPG's in a very unique, fun and addictive way. I can never blow off enough heads. Very excited to get New Vegas Ultimate Edition early next year.
46. Counter Strike: Source (PC)
I wasn't a huge fan of CS 1.6 because at the time I was nuts on Warcraft 3, but CS Source is probably my favorite PC multiplayer game. It came with Half Life 2, which on it's own is a great game, and this is probably the simplest multiplayer game out there. Just join a game, buy some guns and eliminate the other team, when the match is over repeat. Great maps, great to play shooters with a mouse, and it's fun as hell spraying profanity (often porn) on people you killed. Ahh the greatness of unfiltered MP.
45. The Legend of Zelda: Ocarina of Time (N64)
People are going to hate me for putting the game so low, but for me, this is where it belongs. This is probably the most fundamental 3 dimensional game ever made. A lot of the gameplay controls and camera controls implemented in this game have been immitated and used by almost every 3D franchise since (Particularly Action/Adventure games and Platformers). Ocarina of Time represents probably the best quality game of its time, and probably still represents the best level design in any Adventure game to date. Every Zelda since this game has been measured in quality to this title, and all have failed except for maybe Skyward Sword (which still gets many of it's gameplay mechanics from this title), and there is a reason for that. This is the best game made for the N64 in terms of quality and content, it's just not my favorite. Not even my favorite Zelda.
44. Grand Theft Auto 3 (PS2)
This was probably the first 3D game to break the incredible mold set by The Legend of Zelda: Ocarina of Time. This was one of the first games which would appeal to non gamers in the same way a movie would. This was a game which let you do almost anything you wished. This was a sandbox game. Want to go have sex with hookers and then kill them? no problem. Use missle launcher on cop cars? sure. Drive a tank around and park ontop that guy who just took your space? alright. Honestly, after beating the core game, I kept playing this game to do stupid things for a long long time, and I normally don't do that. This was the first game where looking for collectable was fun because not only did they unlock cool stuff, it was fun going crazy with a rocket launcher while doing it.
What is with all the hate? Don't read GamrReview Articles. Contact me to ADD games to the Database


Vote for the March Most Wanted / February Results