Friends, when discussing Twilight Princess sales, you have heard it parrotted that the sales of TP were propelled by the discovery of the Twilight Hack.
Well ladies and gents, I am here to inform you that that is false.
Most of you know that the sales of Twilight Princess amount to 8.17M as per vgchartz' figures.
For certain, 1.6M of TP GC sales were not generated by the TP hack, which is exlusive to the Wii.
But that's not the main argument. In recent observation of the sales trends, I am pleased to inform you that likely more than 90% of Wii sales are not due to the TP hack (I can concede a negligeable 10% of TP Wii sales as an overhead value to the curves).
A quick glance at the curves offered by the tools on VGChartz, it becomes apparent that TP sold the majority of its copies during the holiday season and the lingering weeks that follow. The premice of my proof against the TP hack sales fallacy is that hackers don't necessarily buy hacker tools during the christmas season, they have no reason to. The christmas season is generally a time of sales for families and their children, who are generally not part of the hacker scene. Without further ado, the graphs:
You might notice there are a few minor bumps in the body of the 2007 year. Those are due to the fact that the Wii was supply constrained for the majority of 2007 and also followed a similar curve, so it's no surprise that a hit Wii game like Twilight Princess follow that curve for its growing consumerbase in its entirety (not just hackers).
As you can see from the cummulative sales, TP Wii follows a similar curve to any Nintendo evergreen title, with periodic sales jumps during holiday seasons. For an example of another game following this pattern, see Mario Kart Wii.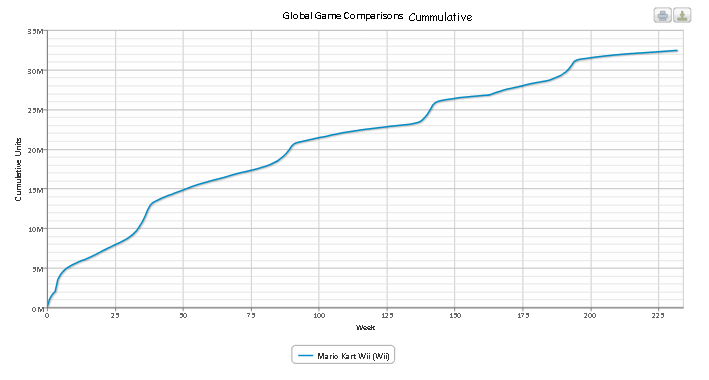 The explosions are more pronounced and the initial explosion is relatively not as big as for TP, but the christmas effect can be seen in full value here.
Post your thoughts on this data, hopefully this is debunked once and for all.
More reasoning:
Panama said:
The Twilight hack became irrelevant after a year when easier methods came out, so any sales increases as a result would have been minor. Not to mention most that specifically wanted it just for the hack, would have purchased a pre-owned copy.
Also, if most people bought the hack with their Wiis, there should be a similar curve between the Wii HW sales and the TP SW sales curves. Yet we don't see that happening.
If you look at the Wii versus TP Wii weekly sales curve, you see very different curves. Example: The sales of TP should go up in Jan 2010 Wii sales spike, but it doesn't.