13114 posts since 08/02/10
It's impossible for everyone to like a game, It's been getting solid reviews across the board so far apart from this.


1575 posts since 07/06/13
The fuck


3715 posts since 05/10/10
gamespots been reviewing harsher lately and using the scoring system to its full extent... (I don't necessarily like the last of US) They gave the last of us an 8 though,
GTAV-8 and a 9
Batman a 6
FF:LR a 5
KZ 7
Knack a 4.
Bioshock Infinite: A 9 and 4
Rekoil a 3

which I applaud, though some of their reviews aren't very good.
And a lot of times they don't understand game mechanics, Which I don't applaud.
1116 posts since 29/08/13
Ha, Gamespot giving a low score to a game that's getting solid reviews from everyone else. That's something new.



4076 posts since 17/10/11
zippy
on 16 February 2014
Another thread for the anti Wii U brigade to pick at. I have it on pre order and im willing to bet that its a very good game.


7644 posts since 04/11/07
I'm just curious if their reasoning has solid basis....


3122 posts since 28/02/13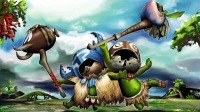 8222 posts since 19/03/07
Do you think the metascore will be similar?


3DS-FC: 4511-1768-7903 (Mii-Name: Mnementh), Nintendo-Network-ID: Mnementh, Switch: SW-7706-3819-9381 (Mnementh)
Why you will not convince me I have chosen bad consoles. / awesome Miiverse art / my greatest games list
Bet with platformmaster918 and ethomaz about PS3 overtaking Wii in total sales.
Predictions: Switch / Switch / Switch / MHWorld / GOW > BOTW / Switch vs. XB1 in the US