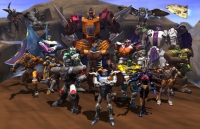 33,037
L7: Hunter
(1,963 until level 8)
zorg1000
Woohoo I got a Wii U!!!!
A

23 year old male gamer

United States

Joined on

November 14th 2012

, last online

21 minutes ago

.
Profile Views: 19,403
Forum posts:

6,793 times

which averages

7 posts per day
2 Years
Has been a VGChartz member for over 2 years.
Watch Your Back!
Received 10,000 profile views.
Pata
100 wall post comments made on gamrConnect.
1st Birthday
Has been a VGChartz member for over 1 year.
First Rung Of The Ladder
Earned 10,000 gamrPoints
One Small 'Splosion
Author of 100 forum threads.
Trust Me, It'll Have Legs
100 replies made to user's most popular thread.
Making Friends
10 friends on gamrConnect.
Littlest Genocide
1,000 posts on the gamrConnect forums.
Favourite Games
This list only shows a selection of games from this user's favourite games.
View all games
Biography
Height: 5'10
Eye colour: Blue
Hair colour: Brown
Zodiac sign: Aquarius
Relationship status: Married