zero129 said:
*Midwinter might of been the first open world 3D game, But to compare Mario 64 to it would be the same thing as comparing Mario 64 to Wolfienstin (Spelling?) the original both games where 3D but both completly different.
Mario 64 defined and Innovatied the 3D platform genre and its the formula most games followed since.*
As I said though, if you specify enough qualifying requirements, you can make any game a "first", it doesn't make it innovative, it just makes the requirements you set too specific.
*Depends on how you look at it i guess, So ill give you this one, but to me since its the nes pads design thats been copied the most id put it down as the most innovative of the time but like i said i guess its how you look at it*

"This is weak imo to try to deny that the Power Glove was the first motion controlled device.
Dispite how it gets the job done it still takes motions and translates them into button presses.Anything that uses motion is a motion controller -_- ..."
So, moving your fingers to activate a button or trigger is motion controls?, because in that case the first videogame with any button at all would be motion control, since you have to move your finger to activate it.
As pointed out by another poster, the Powerglove did have yaw and roll tracking via the speakers / receivers, but these were highly inaccurate and could not track pitch, but the thing here is, even if you want to classify that as motion controls, it doesn't make nintendo the innovator, nor does it make them the first, because the powerglove is ased on a massively cut down version of the VPL dataglove, reducing finger motion resolution from the 8 bit (256 positions) original to Nintendo's much much lower resolution, 2 bit (4 positions), so the much slower console has enough power to handle these inputs - secondly much of the motion tracking capabilities of the original glove were left out completely.
*Trust me i was around at the time and i also know that they where used in arcade machines at the time, But the N64 Rumble pak was announced and shown around the world before Sony showed off their dual shock.
So yes Sony might of launched the Dual Analog in the same month as the rumble pak in japan, But it was Nintendo who showed off Rumble pak long before sony did and the japan release in april was more like a protype and rushed release to compete with Nintendo as can be seen by how the "Rumble" feature was left out of the US and Europe release of the controller until almost a year later when Sony launched the Dual Shock..
And also Nintendo was the only company out of Sony and MS who used Original Tech for their Rumple features as can be seen from the time when immursion or whatever that motion control companys name was sued Sony and MS, Nintendo was the only company they couldnt sue.*
Both the rumble pak and Dual Analog PS controller were revealed to the world at TGS 1996, the first TGS event to be held - I know this for a fact, as I was there, the rumble pak was introduced to be bundled with the new starfox game and Sony were demoing an early version of resident evil directors cut, and Porsche Challenge with it.
As for "original tech", Nintendo used a single 5 speed motor that ran off AA batteries to reduce cost, the Dual Analog and later Dual Shock controllers used progressive multispeed Sine and Saw wave motors, with the left and right motors having different weights attached to broaden the range of vibration, the rumble pak just had a single motor with a single weight.
Again this is a situation of cutting corners to keep costs down, it bypassed the need for licensing from Immersion because their patent required two or more motors, because that was considered the only feasible way to produce a broad enough range of rumble frequency to be immersive.
The result of this being that the N64 rumble was more of a hinderance than an enhancement, and not being able to save your game when using it because it occupied the memory pak slot, combined with the requirement to replace batteries left most people completely omitting it.
"its still the first console to include one doesnt matter what it was used for as it was the first implantion of it"
I never said it wasn't, I was just expanding upon it - but as i said, being the first to add existing technology doesn't make it innovation.

"I guess then we have different ways of looking at things, it might of been used in computers before, but this is the first time someone took the idea and used it to back up save games in a console id call that innovation as before this only way to save your game was to write down a code, existing ideas can be innovatied on you know?"

That's the thing, I don't consider using existing technologies in your own application to be innovation, console fans love to list all these "first" things, but the reality is simply that they were not the first to use them, and certainly not the first to use them in an application outside of the originally intended use. Existing ideas CAN be innovated upon, you're right, but "we took a microphone and put it in our controller" isn't innovation, if you took the microphone and build something completely different with it, that would be innovation.
"From everything i read the Snes was the first joypad to have proper shoulder buttons (I dont mean peddle controllers or a joystick with a button on the side, but proper shoulder buttons on the top shoulders of a joypad the same design as whats still used to this day) but if you have a link with a joypad that has shoulder buttons on its shoulders that came out before the snes id like to read up on it as its always nice to learn something new"
Depending on how the user held the controller the side buttons were indeed shoulder buttons, generally "shoulder button" reffers to any button that can be activated by the fingers that run along the side of the controller, either from joint or pad activation, but hey what do I know, I'm only a gaming product designer?

I guess you take this one too as they do look a lot the same in design so ill put this down to Nintendo taking an existing idea and making it better (Thanks to the cross shaped Dpad)
Interesting fact is that the cross design was also a cost cutting measure to reduce unit price by joining the 4 sections in to one piece, other controllers existed with the same cross layout in the past, they were just cut up in to 4 separate buttons, the cosmic hunter game joined these in to one to cut costs, nintendo followed suit with their first controller for the same reasons, neither company did so with the idea of improving functionality.

"See you tried the same thing about the Power glove.
When people think of the N64 joypad they dont think of the Z trigger as a should button (As can be seen in its name when people talk about it) cos of where and how it was placed plus how it was used in most games it has the whole difinition of a Trigger button (Since when did they have to be analog??), And its a lot differen as its taking an idea that was originally used in a Joystick and re-innovation it to be used in a console controller with a whole different way of holding it then a joystick)
Like i said existing ideas can also be innovatied on.."
Again, it's simply a case of putting a shoulder button in the central stem of the controller to minimize the loss of functionality when the left or right hand is holding the central stem as apposed to the outer stems, this isn't innovation, it's simply basic product design.
If you want to call it innovation then you have to drop the bar for all other products that adjusted the positioning and pitch of their buttons too, at which point it gets silly to the point of calling virtually every controller innovative based purely on the different button placement.
The Z-button isn't even trigger shaped, for all intents and purposes, the first true trigger button came with the original Xbox, both trigger shaped and analog, the reason analog is important here is because an actual trigger does not function digitally, you do not get a certain way through pulling and the gun goes from doing nothing to firing, the mechanism is entirely analog, even for fully automatic guns, as the trigger is pulled, the internal firing mechanism moves in to position along with it, on handguns this would be drawing back the firing pin - the whole thing is fully analog, the z-button is digital, thus simply a standard button no different from a shoulder button, it is only a trigger by name, though most official documentation and most games reffer to it only as "Z button".
My views are quite strict between what I consider to be innovation and what I consider to be evolution, but they are strict for a reason, without being so, the line between what is considered true innovation and what is simply alternative application becomes muddied and you end up in a situation, just like this very thread, where people think including existing technology in a console is innovative as long as you're the first to do it.
It isn't, people just claim it because they want to score brownie points for the company of their choice, this isn't a school yard, your side doesn't have to win for them to be a good manufacturer or producer of games.
There is virtually no real meaning to being the "most innovative" or "least innovative" and as you will see, people drop the standards bar for what they consider innovation, for the company they want most to be seen as the most innovative, and with such a moving target for what is actually considered true innovation, I would rather take the conservative, strict stance on it then wade through the muddy waters of "well blah blah added blah first so theyre innovative!".
Do you think the first person to add an extra 2 wheels to a truck thought "such innovation, much wheels, so rolling, wow", no, though most likely thought "there, now the axels are sharing the load better and will last longer" and they'd be right for thinking so, as it is evolution of design, not innovation.
Despite all that though, I at least hold all companies to that same opinion, which probably makes it harder for people to "argue" with me, because you can't really say "you're just a microsoft/sony/nintendo fanboy" as a cheap way to excuse my points, since i refuse to call many of the claims from nintendo, sony and microsoft fans to innovations of their chosen manufacturer as genuine innovation - because lets be honest here, scroll through this thread again, almost all of them are not, and the harder people try to dig for innovation, the looser their standards to what they call innovation become.
If you really want to see Innovation from Nintendo, look to their origins, they went from producing playing cards to a multi fasceted service based company to a gaming company only, the mass manufacturing process they had for the playing cards, was, by their own design, innovative, the seedy love hotels they owned and ran in the 60s less so, infact my wifes parents actually remember those very love hotels around tokyo, if you watch period movies set in tokyo you can sometimes spot the Nintendo owned love hotels too, by the following logo they used to use.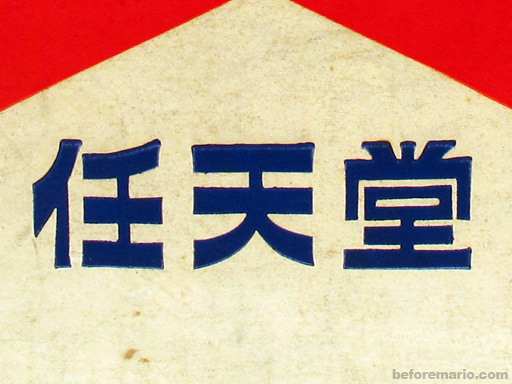 Interesting to imagine that Nintendo got where it is today, in part, thanks to people wanting a grubby bedroom to do the deed in.