noname2200 said:
Mr Khan said:
Similar point in the lifetime is an unfair comparison to make. I've seen the line graph, i've seen the one bump that puts DS over 3DS overall. That bump is called Christmas 2004.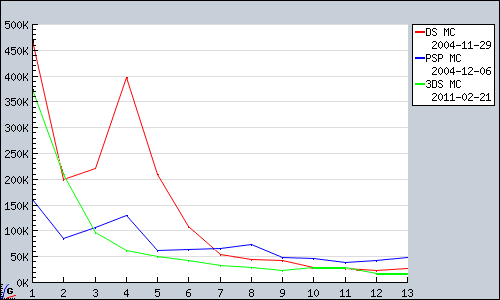 Here's Japan's chart: I no longer have the other two regions available thanks to VGC Pro (...), but from what I've heard the 3DS has done worse than the DS when launch-aligned there too. Take out that bump, and assume a similar curve. The reality remains the same: the second-rate, undersupported, not-really-our-next-system-guys system is on par, if not ahead, of the this-is-the-future-everyone! system. Shoot, the PSP is now tracking ahead of the 3DS, and that system stunk in Japan until Monster Hunter's arrival.
Mr Khan said:
Another problem could potentially be if Nintendo puts all their stock in GameCube-style games for the 3DS this E3.
This was actually the third, unspoken problem I alluded to earlier.

To put it bluntly, this is at the heart of my concerns about the system since ,so far, ,everyone, first and third party, are treating it like this. Up to this point the system has emphasized things and features that I, and I think most of the market, doesn't really care for in its handhelds. And it emphasizes these things at a steep cost to things that really do matter to me and, I think, most of the market. The hardware issues are set in stone, but software can always turn around: both of the handhelds this (last?) generation changed course midstream, so who's to say the 3DS won't to?
Don't mistake me, I'm not saying the 3DS is the next Virtual Boy, who's fate is writ large. What I am saying, and what I have been saying since Nintendo's conference last E3, is that the system is not going to do particularly well if it continues to take the same tack. I'm hoping for a course correction: the captain may have started out in a vessel that's ill-suited to the journey, but perhaps if he changes course it will become smooth sailing. We'll know more about what's coming up in just four days, though.
As for how this relates to Cafe, from what little we know now I suspect Cafe will follow in the 3DS' footsteps. But again, it's just four days until we find out.
But could we really see what the DS became early on either? The same potential problems were there, a gimmick which was being ill-used and the device as a whole which merely seemed like a portal to pump out console-ish 3D games, and the signs of what the console would become had not yet emerged
I'm sorry if i seemed accusatory, i've just been more readily opposed to the more incorrigable Malstromites around here of late, who for about a week or so there completely twisted discourse around into something utterly toxic.
But i should really be writing my paper for International Trade right now...
Monster Hunter: pissing me off since 2010.