http://news.cnet.com/8301-30686_3-20006659-266.html
http://www.wired.com/gadgetlab/2010/06/att-poll-data/
AT&T is going to tiered pricing for data use. It's entry level is $15 for 200MB (and $15 for another 200MB). It's other level is $25 for 2GB and $10 for another 1GB.
These prices are lower than the current $30 unlimited packages which will no longer be sold. And the caps supposedly they meet the needs of 65% and 98% of smartphone customers respectively.
CNET is hailing this as a way to entice more people to get smartphones because data access will be cheaper and expects other companies to follow. Wired also confirms that most users will benefit, but notes that there are many complaining and does not believe its own poll results which show that one-out-of-five smartphone user exceeds 4 GB per month.
I personally see this as something others will use to their advantage. The caps are fine for most use, but are potential problems for downloading movies/shows/etc. And that's where the advertising should really make this a problem.
Also, it could not come at a worse time for Apple (which only sells through AT&T). Android systems outsold iPhone systems in the US in the first quarter of 2010 according to NPD (28% of market vs. 21% of market). Both trailed RIM's Blackberry (36% market share).
In other words, if people are having to worry about the price of downloading a game and what that will do to their data plans ... I feel that it makes it harder for cell phones to truly replace dedicated gaming handheld machines (or consoles) as some have predicted.
Thoughts?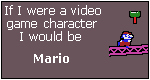 I am Mario.


I like to jump around, and would lead a fairly serene and aimless existence if it weren't for my friends always getting into trouble. I love to help out, even when it puts me at risk. I seem to make friends with people who just can't stay out of trouble.

Wii Friend Code: 1624 6601 1126 1492

NNID: Mike_INTV