UPDATE3: Cross-save and Graphic Options in English, and Update 3.6 patch notes:
- Added touch control support.
- Added save file integration with GOG, Steam and versions of the game for Switch from different regions.
- Added more text languages (in selected regions).
- Added more graphical options.
- Added multiple performance optimizations.
- Fixed various visual and functional bugs.
- Various gameplay and crash fixes.
UPDATE2: Game update started to roll out worldwide, also in Italy as seen in the comments over at NE.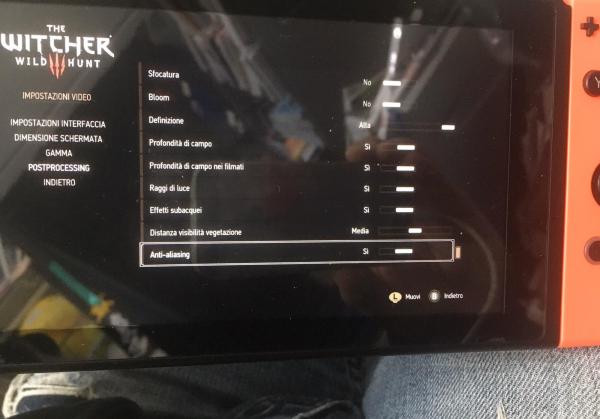 UPDATE1: An update seems to have started rolling out, players in Korea are allegedly able to download version 3.6. The update appears to be as significant as was hinted at. Saves now have compatibility with the PC version, meaning you can progress through the Switch edition and continue on where you left off on Steam (and supposedly GOG) and vice versa. Additionally, it looks like several graphics options can be tinkered with.
Based on the reddit post, there are eight new graphic FX options available:
- Motion blur
- Blur effect
- Bloom
- Sharpen
- Depth of Field
- Depth of Field for Cut-scenes
- Chromatic Aberration
- Water Quality
- Foliage Visibility Range
- Anti-Aliasing
And following are two screenshots comparing Sharpen OFF vs MAX.
---
Enhanced settings? Boosted resolution? 60FPS?
With a modified Switch in hand, the doors blow wide open when it comes to squeezing more from its games library. The Witcher 3 benefits in many ways - solving many of the gripes we experienced in the base game. Now we can overclock the system to hit higher frame-rates, and even apply user-made mods to boost image quality and visuals. But at what cost?

https://www.youtube.com/watch?v=sPViMidRJxY
---
I knew you could overclock CPU and GPU to help DRS, what I didn't know is that you can mod the game to change settings.
Improve visuals or image quality, increase that foliage range or sharpen that image, all possible at a cost on performance:
- Bloom
- Sharpening
- Depth of Field (both gameplay and cutscenes)
- Light Shafts
- Underwater Effects
- Foliage Visibility Range (it doesn't change ring size, because this is adjusted dynamically)
- Water Quality (which is just disabling/enabling (default) physics simulation when swimming, changing tesselation factor doesn't work)
- Anti-aliasing (which is technically TAA, but it doesn't have any string related to it, so I've used antialiasing string)
https://www.reddit.com/r/SwitchHaxing/comments/dhml03/the_witcher_3_enhanced_settings_mod/
And here is a comparison of the mods
http://www.framecompare.com/image-compare/screenshotcomparison/J00JMNNU
Last edited by TomaTito - on 18 February 2020