This Tier list is based on Current Sales Potential.
Placement is based on the sales of the latest Major installment to the franchise + some speculation to the known upcoming major installment.
All tier lists are done off VGChartz figures.
Special thanks to Jaywood for doing the Sony and Microsoft tier lists.
http://gamrconnect.vgchartz.com/thread.php?id=155873
http://gamrconnect.vgchartz.com/thread.php?id=155877
S-Tier: Mario Kart,2D-Mario,Wii series,Pokemon Main series,3D Mario,Smash Bros (10 million+)
A-Tier:Animal Crossing,Donkey Kong (5 to 10 million)
B-Tier:Zelda,Luigi,Mario Party,Paper Mario, Mario & Luigi, Yoshi,Nintendogs,Brain Age(2 to 5 million)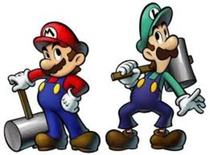 C-Tier:Mario Sports, Kirby, Metroid, Pokemon Mystery Dungeon,WarioWare,3D Pokemon spinoffs, Pikmin, Xeno-series, Fire Emblem,Punch-out, Kid Icarus,Rhythm Heaven (1 to 2 million)
D-Tier:Star Fox,Endless Ocean, Art Academy,Advance Wars,Golden Sun,Pilotwings,F-Zero,StyleSavvy (Under 1 million)
E-Tier:The rest (Dead franchises)
Current Bets-AC:New Leaf won't break 600k by release to year's end. -NintendoPie (1st bet!) loser has to include this in their sig "Winner Was obviously right and I was obviously wrong. I will forever be a lesser being than them."-3months
Long term Bet-AC:New Leaf will not sell more than AC:Wild World in NA lifetime. 1month of Avatar control. -*Sound Of Rain.
Nintendo Franchise Tier list:http://gamrconnect.vgchartz.com/thread.php?id=155867&page=1#