Story:
Thanks to morenoingrato for the slideshow!
Click here for even more images!!
Click here to see the E3 trailer!!
Click here to see the Nintendo summit Trailer!!
Click here to see epic gameplay footage!!!
Click here to see the 3rd trailer featuring Rock Mario!!!
Click here to see the 4th trailer featuring Cloud Mario, Cosmic Rosalina and Orange Luma in action!!!
Luigi gameplay
Yoshi gameplay
World 1-2-3
[URL=http://img227.imageshack.us/i/yoshisoundtrack.png/][IMG]http://img227.imageshack.us/img227/16/yoshisoundtrack.png[/IMG][/URL]
Uploaded with [URL=http://imageshack.us]ImageShack.us[/URL]
Cosmic Cove Galaxy
Bowser's Lava Lair (N64 Koopa Road remix)
Final Battle
Throwback Galaxy
Bowser Jr.'s Fiery Flotilla
Slipsand Galaxy Clockwork Ruins Galaxy (my favorite)
World 5 Map Theme
Fluffy Buff Galaxy
Haunty Halls Galaxy
Melty Monster Galaxy (morenoingrato's favorite)
Sky Station Galaxy
Sky Station Galaxy 2
Starshine Beach Galaxy
Bowser Brawl
Bowser's Galaxy Generator
Gobblegut Battle
Yoshi Star Galaxy
(if you'd like one without the "shine", just ask!)
MULTIPLAYER: Player 2 controls an orange Luma that helps Mario!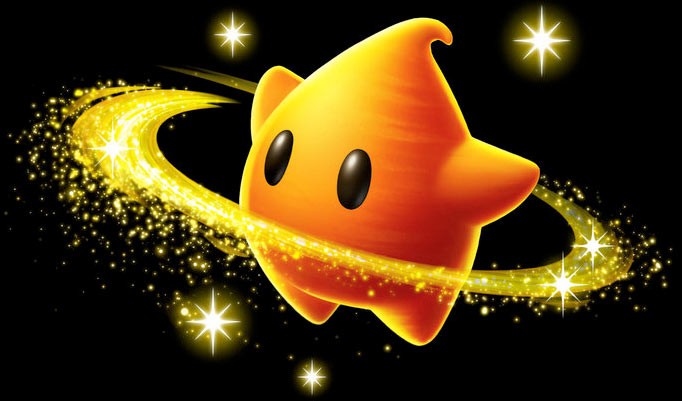 North America
Japan
Europe
NA release date: May 23rd, 2010
Japan release date: May 27th, 2010
EU release date: June 11th, 2010
EDGE: 100% - "This isn't a game that redefines the genre: this is one that rolls it up and locks it away."
Giant Bomb: 100%
The Onion (A.V. Club): 100%
Eurogamer: 100%
Destructoid: 100%
Wii Brasil: 100%
Gamereactor Sweden: 100%
Nintendo Life: 100%
Digital Chumps: 100%
1UP: 100%
Eurogamer Spain: 100%
G4TV: 100%
IGN: 100% - "Consider me "wowed." Again. Yes, Super Mario Galaxy 2 is more of what made the original so amazingly good: brilliant gravity platfoming. Incredibly tight and responsive controls. Fantastic musical score. But it's not a "me too" experience -- a significant majority of this sequel is brand new."
Kombo: 100%
Games Radar: 100%
Gamespot: 100%
Kikizo: 100%
The Escapist: 100%
Telegraph: 100%
Eurogamer Portugal: 100%
games(TM): 100%
Thunderbolt: 100%
Gamervision: 100%
Gamer Limit: 100%
Meristation: 100%
GamerShark: 100%
GamerNode: 100%
Armchair Empire: 100%
3DJuegos: 100%
N-Europe: 100%

GameFocus: 99%
Gamer 2.0: 98%

Cheat Code Central: 98%
Vandal Online: 98%
NGamer UK: 98%

play.tm: 97%
Gametrailers: 97%
Official Nintendo Magazine: 97%
NintendoWorldReport: 95%
Hardcore Gamer Magazine: 95%
Da Gameboyz: 95%
Worth Playing: 95%
GameZone: 95%
Game Informer: 93%
Computer and Video Games: 93%
Wired: 90%
GamePro: 90%
GameDaily: 90%
GameSpy: 90%
OVERALL SCORE: 98%
| | | | | | |
| --- | --- | --- | --- | --- | --- |
| NAMES | FIRST WEEK (OPENING) | SECOND WEEK | SALES ON JANUARY 1ST, 2011 | METACRITIC SCORE | GAMERANKINGS SCORE |
| 09TARHEEL | 1.25M | 500K | 6.5M | 94 | 94 |
| KILLERYOSHIS | 1.3M | 450K | 6.5M | 95 | 95 |
| BOUTROS | 1.35M | 500K | 7M | 94 | 95 |
| MIZ1Q2W3E | 1M | 500K | 6M | 94 | 94 |
| MORENOINGRATO | 1.2M | 450K | 7M | 94 | 95 |
| HUAXIONG90 | 1.15M | 550K | 7M | 95 | 95 |
| NINPANDA | 1.10M | 475K | 5.5M | 93 | 92.70 |
| SMEAGS | 1,134,145 | 557,392 | 5,889,776 | 95 | 95.87 |
| RAINBOW YOSHI | 1.28M | 520K | 7.2M | 95 | 96 |
| SOLERON | 800K | 450K | 5M | 95 | 95 |
| GUIDUC | 1,5M | 750K | 7M | 98 | 97 |
| | | | | | |
| | | | | | |