leo-j said:
The higher the sales, the more support from 3rd parties.
Leo-J has it right!
There are many a system for which games have been limited because of poor sales.
For example, there were one-quarter the number of titles released for the Saturn as there were for the PSX. And as far as I can recall, there were no must-have third-party titles on the Saturn in North America that you could not find on a PSX.
Also, Leo's prediction about the PS3 not falling below 120K units per week WW has held true so far in 2008 -- so he gets dap for that too. 8*>
Mike from Morgantown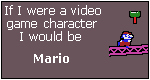 I am Mario.


I like to jump around, and would lead a fairly serene and aimless existence if it weren't for my friends always getting into trouble. I love to help out, even when it puts me at risk. I seem to make friends with people who just can't stay out of trouble.

Wii Friend Code: 1624 6601 1126 1492

NNID: Mike_INTV