trunkswd said:
Share the article here.
Nintendo Switch Outsells Xbox One in the US
This monthly series compares the lifetime US sales of the Nintendo Switch and Xbox One.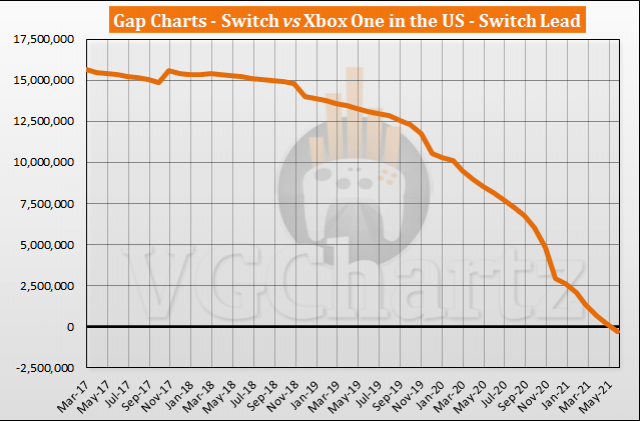 Switch Vs. Xbox One US:
Gap change in latest month: 486,484 - Switch
Gap change over last 12 months: 8,445,811 - Switch
Total Lead: 302,331 - Switch
Switch Total Sales: 29,905,942
Xbox One Total Sales: 29,603,611
June 2021 is the 52nd month that the Nintendo Switch has been available for in the US. In the last month the Switch outsold the Xbox One by 486,484 units and by 8.45 million units in the last 12 months.
The Switch in June 2021 outsold the lifetime sales of the Xbox One in the US and is ahead by 302,331 units and growing.
The Xbox One launched in the US in November 2013, while the Nintendo Switch launched in March 2017. To date the Switch has sold 29.91 million units, while the Xbox One has sold 29.60 million units.
If you were to align the launches of the two consoles in the US the Switch would be ahead by 9.16 million units, as the Xbox One had sold 20.75 million units through 51 months.
And thus, the Xbone's last stronghold fell, and the Switch's victory was complete across all the lands.
So now this one is over, can we get Xbox Series vs 3DS to replace it? That should be an interesting one.