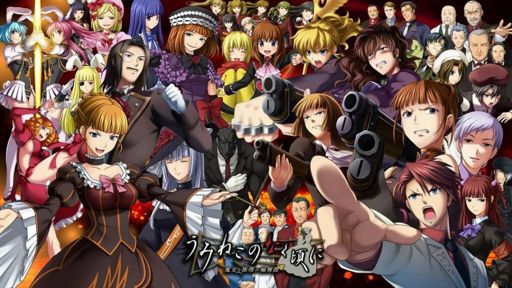 Guys, I just finished The Letter, and I want to jump into another Visual Novel. Do you have some sugestions? It must be for PC, since it's my only way to play VNs (I have a 2DS too, but I like it for other kinds of games).
Here are some experiences I had. It may help you guys. Thanks in advance.
Umineko no Naku Koro Ni - My favorite Visual Novel ever! Insane plot, great characters, and I love horror stories. No gameplay at all, but the plot itself was enough for me.
Root Double - This one was amazing too. Confuse gameplay, but great story with two routes. I enjoyed the murder mystery route way more than the school life route, though.
Danganronpa - Cool gameplay, didn't enjoy the plot. Also the "executions" were... I Don't know, I don't like this one.
The Letter - My latest VN. A very good horror story with adult protagonists and a couple of scares, loved it.
Ace Attorney Series - I enjoy the gameplay over the plot. The plot is not bad, but the gameplay is amazing.
Zero Time Dilemma - Great gameplay, but I got stuck at a certain point and could not beat it. May give it another try in the future.
Root Letter - Good gameplay, but way too short and the plot could be better.
So, if someone can recommend me some Visual Novels, I will make sure to check it. If you want more details on what kind of VNs I like, feel free to ask me. But overall, I like horror/mystery themes, and I don't mind if there's no gameplay.