Iraq: Hell has broken out here and nobody cares
Posted on: July 31, 2014 12:52 PM
The Arabic letter N has become a symbol of solidarity with Iraqi Christians after IS began daubing it on Christians' homes
The Vicar of Baghdad, the Revd Canon Andrew White, has issued an impassioned plea for prayer and support as the ISIS onslaught against the minority Christian community in the country continues.
ISIS, now known simply as the Islamic State (IS), claimed that "we can do anything now the world is just looking at Gaza," and Canon White said that "in reality that is true."
He said that "every day, we think that the crisis here cannot get worse and every day it does. Yesterday over 1500 people were killed.
"Iraq seems like old news, yet things just get worse and worse here. It is as if hell has broken out here and nobody cares, that is apart from your our supporters who never leave us and keep supporting us in every way and to you I simply say thank you."
He continued: "So many of our people have left or are planning to leave. Even here in Baghdad people are terrified of what is happening around us. The IS has established their hidden cells within Baghdad and people are seriously under threat even though they are not in the areas controlled by the IS. The number of kidnappings here has soared and people simply do not know what is going to happen next.
"We are still involved in providing a lot of support for the Christians who have fled Mosul and Nineveh to the North but we are staying here as our archdeacon is coming and we are really looking forward to this. We cannot really believe he is willing to come into this but he is. The support we have raised is going to the various established churches and they are sharing what is most needed with their people.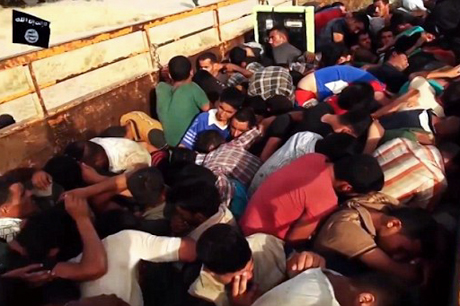 Taken from an IS video, this photo shows Iraqi prisoners, including what appear to be children, piled onto trucks before being driven off for execution.
"Please continue to pray for us and support us in our crisis."
"I am gravely concerned about the physical safety of several minority groups in Iraq, including Christians, Shia, Shabaks, Turkmen, Yazidis and others who are being persecuted on the grounds of their religion and ethnicity", said the United Nations' Special Rapporteur on minority issues, Rita Izsák.
"Reliable information indicates that religious minorities are being targeted and their members subjected to abductions, killings or the confiscation of their property by extremist groups," she said.
The UN say that IS and its associated armed groups have taken control of several cities and regions in northern Iraq in recent weeks, and have committed "gross human rights violations, some of which may amount to war crimes and crimes against humanity, including targeting and killing civilians."
Yesterday, the Archbishop of Canterbury Justin Welby changed his Twitter and Facebook profile picture to the Arabic letter N as a sign of solidarity with Iraqi Christians. The symbol – meaning Nazarene, or Christian – is being painted on Christian homes by IS supporters to mark them out for attack; and is now being adopting by Christians around the world as an act of support.