I remember when this was impossible. Funny how the thing can change.

Halo 5 first week in UK: 150,000
Halo 5 first NPD < 1 million ( around 900k? )
Those sales are BRUTAL. Worst selling Halo game ever. Here the comparation with the others Halo games:
UK
[Week 11, 2002] HALO: COMBAT EVOLVED (MICROSOFT) -
[Week 46, 2004] HALO 2 (MICROSOFT) - 260,000 / NEW (85%)
[Week 39, 2007] HALO 3 (MICROSOFT) - 370,000 / NEW (90%)
[Week 09, 2009] HALO WARS (MICROSOFT) - 65,000 / NEW (90%)
[Week 39, 2009] HALO 3: ODST (MICROSOFT) - 212,000 / NEW (90%)
[Week 37, 2010] HALO: REACH (MICROSOFT) - 390,000 / NEW (90%)
[Week 46, 2011] HALO: COMBAT EVOLVED ANNIVERSARY -
[Week 45, 2012] HALO 4 (MICROSOFT) - Slightly over 332,000 / NEW (90%)
[Week 46, 2014] HALO: THE MASTER CHIEF COLLECTION (MICROSOFT) - 100,000 / NEW (95%)
[Week 44, 2015] HALO 5: GUARDIANS (MICROSOFT) - 150,000
USA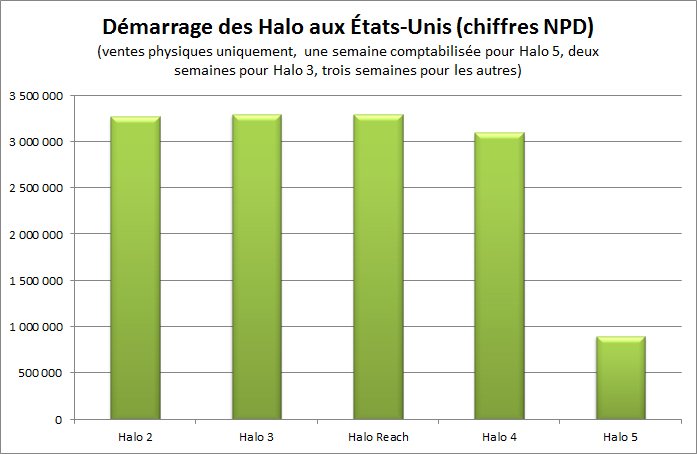 Do you think that's bad?
Well, now look this.
TITANFALL ( only XB1 ) SALES
First week in UK - 125,000
First NPD - 1,083,000 ( including bundle )
Is important to mention Titanfall first NPD has 4 weeks VS 1 weeks of Halo 5... but still.
Halo 5 on XB1, as a exclusive game, is selling barely more than Titanfall, a multiplatform, released when XB1 sales WW were UNDER 5 MILLION!
We can say the same with Destiny. Halo 5 is selling at those levels.
How much sold Titanfall and Destiny on XB1?
Using to VGChartz, both games have sold so far LESS THAN 3 MILLION.
VGC is VGC, we all know, but about Titanfall, using NPD, here what we have:
2014 sales in the US:
9. Pokémon Omega Ruby (3DS)
10. Pokémon Alpha Sapphire (3DS)
11. Titanfall (XBO)
18. Grand Theft Auto V (XBO) > 1m
What we know is that Titanfall has sold less than both Pokémon Ruby and Shappire. According to Nintendo those games have soold INCLUDING DIGITAL 2.6 million combined.
Which mean, one of the two has sold under 1.3 million, and with digital sales. Withouth digiatl sales? less than 1.20 million? And Titanfall is under this.
Those sales don't include bundle, if we include bundle, we add another ~300k, which mean should be close to 1.5 million or so.
VGCHARTZ HAS TITANFALL FOR XB1 AT 1,502,054 UNIT BY END OF 2014 IN THE US
Those numbers seem accurate.
But even if we don't use VGC, really, how much has sold Titanfall? We know the bigger XB1 market with around 60% of sales is the US. Titanfall at 2.5-3 million seem pretty accurate numbers. The same for Destiny.
And Halo? Halo is close to those two games. Which mean Halo is gonna sell, what? 3 million? 4 million? Maybe more, but those numbers remain bad for an Halo game.
Now, let's talk about Splatoon.
Seriusly, all time i see some prediction about this game, i don't even know what say. But oh well, let's use the math.
Splatoon has sold 2.42 million according to Nintendo ( ship + digital ), and do you know the best part?
THIS GAME IS SELLING BETTER THAN MARIO KART 8.
That is. Splatoon legs are stronger than Mario Kart 8, that's a fact, get over this.
FIRST QUARTER COMPARATION
MK8 = 2,820,000
Splat = 1,620,000

SECOND QUARTER
Splat = 800,000 ( -51% drop )
MK8 = 670,000 ( -76% drop )
And now, you can say what you want. You can say "THE NX IS INCOMING", but this change NOTHING.
NX will not release before November 2016 ( if not 2017 ), before that, Splatoon won't stop to sell, AND EVEN AFTER NX, will continue to sell.
Hell, games on Wii like Mario Kart Wii have sold over 2 million after Wii U released!
So, point remain Splatoon is gonna easy sell more than the third, and most likely fourth MK8 quarter. What are the numbers?
Mario kart 8 third quarter = 1.28 million
Mario Kart 8 fourth quarter = 340k
Mario Kart 8 fiveth quarter = 320k
Mario Kart 8 sixth quarter = 440k
TOT3 quarter to 6 quarter = 2.38m
Splatoon is gonna beat this. No way for sell less.
This mean that, by 30 September 2016, BEFORE THE NX LAUNCH, Splatoon will be at MINIMUM 4.8 million. Most likely more, most likely over 5 million.
And lifetime, we are looking for 5.5-6 million. If not more.
Splatoon is already selling better than what i predicted so far. This is not gonna change. That's all.
https://pbs.twimg.com/media/CSpyCNWWUAQnc9R.png:large
2020 predictions: NSW 21m, PS5 6m, XSX 4.5m, PS4 9m, XB1 3m
(PS5 and XSX predictions will most likely change after we know enough about them)