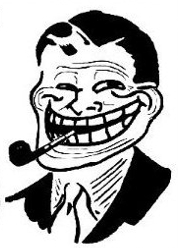 http://www.cinemablend.com/games/EA-Viral-Marketing-Exposed-Big-Buyout-Horizon-40885.html
Someone claiming to have worked with EA sprouted up on the 4Chan forums, of all places. While it would be easy to roll-eyes and click away, what the chap had to say was rather interesting, as he detailed how his job at EA was basically to "troll" forums and websites to create viral marketing effects and deflect bad press from the inner circles of gaming.

While the news originates from 4Chan the real details emerge on Reddit, where a thread talks about the elephant in the room: why would someone come clean about being an ex-employee of EA where they admit that their job is to professionally troll in order to deflect heat from a game or promote a product with subtlety and professionalism?
His mention of threads relates to "trolling" popular websites and forum boards and aiming to derail bad publicity and "negative" marketing from spreading. Sort of like those people who are on Amazon right now defending Capcom's inclusion of disc-locked content and trying to discredit the reviews who bring this poor business practice to light.

What's more is that when he reveals a former forum name, posters instantly recognize him as a guy who had been defending Mass Effect 3, Star Wars The Old Republicand Origin for several months, even using Origin to hand out free games during a brief marketing campaign, meaning he's either legit or one of the most dedicated trolls ever.

Anyways, EA actually spent more than $747 million on marketing last year. That's close to $1 billion marketing stuff by paying people to troll; advertising; press events, etc., etc. Can you believe that? consumers are footing bills for marketing campaigns that are just shy of $1 billion. Just imagine how many games could have been made with that
You know this explains a lot of the Call of Duty hate on the internet.