This is the mighty prequel to the NintenDad saga,
The Tale of the Benevolent Dad of Nintendo & The Very Naughty Children of Third-Parties
Part I - "The Naughty Kids of the Third Party Set Out on their Own"
http://gamrconnect.vgchartz.com/post.php?id=5976084

Part II - "In Which the Soda Can of Server Offloads is Guzzled and the Fried Rice of Frame Rates is Munched Down"
http://gamrconnect.vgchartz.com/post.php?id=5976136
Part III - "Part III - The Dad's Secret Weapon - The Soothsayer Fan Neighbor"
http://gamrconnect.vgchartz.com/post.php?id=5978079
This is the exciting, the terrible, the much-needed into today's era:
The Tale of the Grim Gramma of Gaming
and the Cult-like SQUAD of SILENCE
Before NintenDad was a proud parent of many squeaking, squawking third-party children, and kicked them out into the street (after they ran away) and vowed to get his revenge upon them (which involved him welcoming them all back into his house with open arms) [sound crazy? read: http://gamrconnect.vgchartz.com/post.php?id=5575619 to learn about this accurate and real assessment of things], the great benevolent NintenDad was an itty-bitty KidTendo.
His own parents weren't around. His mom was a bunch of Hanafuda cards and his dad was a mechanical grabbing hand toy, and they met up and conceived him in a love hotel. Unfortunately, they both vanished due to the changing technological climate, leaving the tiny, crying KidTendo behind. 'Wah, wah!' remarked the tiny KidTendo, lonely and afraid. He tried to make his own way in the world, but his only offering, Radar Scope, seemed not to appease the masses.
It was then that his mother's mother, the great Grim Gramma of Gaming, took in the hapless KidTendo.
"I will raise you properly," she said in a stern voice, gripping her stick, "because your skeezy mother left you to the wolves."
"Goo!" proclaimed the baby KidTendo, though 'World of Goo' wouldn't be released on WiiWare for almost 25 years, and even when it did, it didn't live up to hype.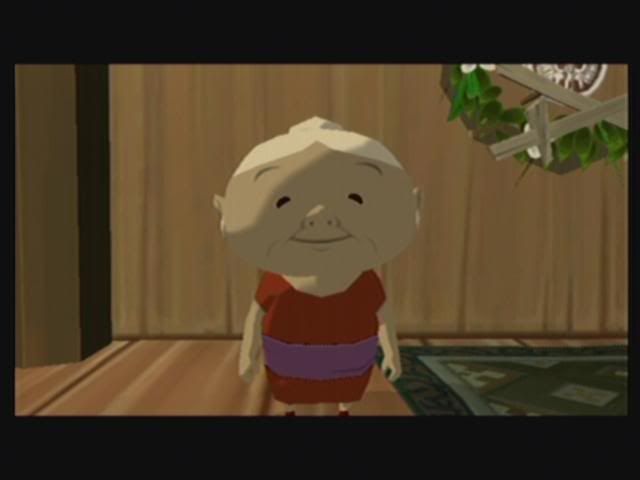 "I'm going to raise the living crap out of you, KidTendo!"
So the sparkling baby went to live with the Grim Gramma. And for a time, all was well. The Gramma instructed KidTendo in the ways of gaming, and in that time, KidTendo flourished. Donkey Kong, Mario Bros, and many more hits came from the forming mind of the growing child. Grandmother was pleased.
Then, the time Grim Gramma had been dreading rolled around. KidTendo was no longer a Kid, but an adult. It was time for NinMANdo to set out into the world, and find its way.
"You must make a home console!" proclaimed the Grim Gramma. "No more of this playing around in the dingy marshes of the arcade swamp. You must crawl onto the dry land of the consumer's home!"
"Yes, Gramma-San!" said the culturally inaccuate NinMANdo. He put his hand on the knob, eager to set out into the world.
It was then that he felt the mighty stick swing down and catch him on the back of the head. Blinding flashes of pain shot through his head like a lightning bolt. His eyes went red and crossed in agony. He slowly turned around.
"Grim Gramma of Gaming! Whyever for did you strike me?"
"Because, NinMANdo," the Gramma cackled. "You are my child, my BABY! AND YOU CAN NEVER LEAVE!"
"But what about setting out in the world? About forging a home console?"
"You can forge a home entertainment experience, and you must. But mark my words, strapling: you will NEVER leave this house, the house of your Gramma of Gaming! I gave up too much to raise you!"
Head hung low, spirits squashed, NinMANdo set about making a home console experience. All was well in the world. The console was well-received. The world rejoiced. The days flew by. NinMANdo gave birth to all the third-parties, who jittered and chickled around his feet like clucking ducklings. (I think he mated with Sister Sega or something. He must have been sneaking somebody in the house to have all those chickens.) Anyway, he eventually released another system, the SNES, and that was loved. But his old girlfriend Sega was stabbing him in the back, and released their own system.
The NintenDad needed to do something, so he dialed his booty call Sony. Sony said "SURE, we'd LOVE to help you make a new add-on to compete with Sister Sega."
"Grim Gramma! Grim Gramma!" NintenDad cried, filled with joy. "Sony and I are going to form a partnership! We will dominate together!"
THWAK
came the stick,
"You MUST NOT partner with ANYONE else on equal footing, my dear and marvellous boy! YOU are better than them! You are better than EVERYONE! You must change the deal, and stick it to these Sony douchebags before they know what hit them! RULE THEM WITH AN IRON FIST!"
"But, Grim Gramma of Gaming! I think we really have a chance for an epic partnership here, and I wouldn't want to--"
THWAK
"YOU are the special one! YOU will always be my boy! YOU YOU YOU YOU YOU!" cackled the Gramma. "I don't care HOW you do it! BURN SONY TO THE GROUND IF YOU HAVE TO! Just don't accept any deal in which you are anything less than the RULER OF THE UNIVERSE! Because you are MY SPECIAL BOY!"
So, forced to agree with his Grim Gramma, NintenDad tried to make Sony agree to horrible, horrible terms. Sony backed out, and released their own system. NintenDad was emotionally devistated. Why had he been forced to push Sony away? Spurned Sony had become a powerful adversary. Then, the unthinkable happened. Each new system NintenDad made dwindled, while the opposition did better and better. A new opponent, Mad Microsoft, entered the fray, and, together with Spurned Sony, they decimated NintenDad's marketshare.
NintenDad snuck off from his increasingly senile grandmother, and made Wii and DS in secret, and for a time all had improved with the system's sales. But the Grim Gramma of Gaming was not impressed.
"I'll teach you to think you can get away from me!" she cried, pummelling NintenDad with blows. The third-party children fled the house in terror at the sound of the Grim Gramma's merciless beating.
"Please!" cried NintenDad desperately, holding his hands out before his face. "Stop!"
"I will NEVER stop beating you! You abandoned the ways of the Grim Gramma of Gaming!"
"But this is our most successful generation of hardware in years!" NintenDad said, trying to get her to listen to reason.
"YOU ARE THE MOST SUCCESSFUL LOUT OF ALL TIME!" Grim Gramma cried, breaking her broomstick over NintenDad's head. "You are a successful CRETIN!"
NintenDad simply stood there, and took the beating. Over time, he began to develop Stockholm Syndrome. The Grim Gramma MUST be right, he began to think.
So, he forged the Wii U and 3DS, and sent them out into the world. They landed with a resounding thud. The Wii U knocked such a big hole in the earth as it fell through the dirt that people put up a barricade around it, lest they fall in and die.
"But I listened to the Grim Gramma of Gaming!" NintenDad lamented. "How could the Wii U be such a failure?"
SHHHHHHhhhHhHHH!
came a loud cry, from a thousand directions at once.
"Wha-- What was that?" said NintenDad, afraid.
"WE ARE MANY. WE ARE ONE," came the reply.
"Who's there?" NintenDad asked again, his voice trembling.
"WE ARE THE VOICE OF THE SQUAD OF SILENCE. WE ARE THE CULT OF COMMERCIAL IGNORANCE. WE ARE WORSHIPPERS OF NINTENDAD."
The voices came from all around him - many voices, one speech. It continued.
"AND WE WILL NOT TOLERATE ANYONE--EVEN YOU, NINTENDAD HIMSELF--SPEAKING ILL OF OUR GOD!"
NintenDad quaked. "But it's true!" he said. "Our sales have plummeted compared to last gen."
SILENCE!
"But we have to take steps to improve our business, or--"
UNTRUE. YOU ARE ACTUALLY DOING GREAT
"But," NintenDad said, "I don't see how you can say that when we are being beaten by the other guys by a magnitude of--"
NOBODY PLAYS THOSE BROWN AND GREY SHOOTERS
"Then why are they the biggest selling games each year? All I'm saying is, we need to improve our sales in order to stay compet--"
SILENCE! NINTENDAD IS ALL! NINTENDAD IS LIFE!
"I just don't see how I can reason with you, Squad of Silence! It's like you are--"
HATER! HATER! You just want NINTENDOOM!
NintenDad hung his head, walked to the couch, and flopped down on it. He saw no way to win.
"So, my dear," cackled the Grim Gramma of Gaming, "I made you some cookies."
"I'm not hungry," he said sullenly.
Just then, a thousand voices speaking as one rang through the house.
YES YOU ARE! YOU'RE VERY HUNGRY! AND NPD IS BIASED!
NintenDad sighed, put the cookie in his mouth, and tried not to cry.
To be Continued...