I thought it would be a good idea to have an official US politics thread, so here goes... Oh, and i'll update the stories/thread title on a daily basis.
Mitt Romney on course for easy victory in Nevada as caucuses open:
Newt Gingrich to meet backers while other Republican nomination candidates turn their attention to remaining elections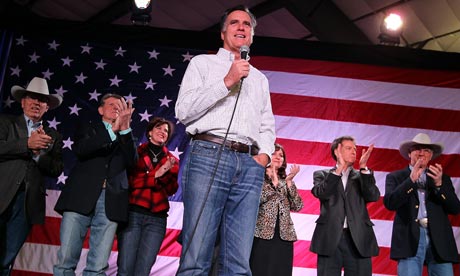 Voters in Nevada have began caucusing in the Republican nomination race, with Mitt Romney expected to win by a large margin – a result that would leave him with a total of three out of five victories in the opening contests.
Romney is on course to add to that tally in the five remaining contests in February.
Nevada is the first of the elections to be held in the west, one of the main battlegrounds for the 2012 White House election.
Romney's main rival, Newt Gingrich, is planning to meet his backers in Las Vegas later on Saturday to discuss a long-term strategy, working out how to accumulate a large bloc of delegates to take to the Republican convention in Tampa, Florida, in August.
One of the key questions is whether Las Vegas billionaire Sheldon Adelson, who has helped bankroll the Gingrich campaign so far, is prepared to keep funding him month after month.
The other two in the race, Ron Paul and Rick Santorum, have already left Nevada, with Paul campaigning in Minnesota, which has its contest on Tuesday, and Santorum in Colorado, which has its election on the same day.
Romney is scheduled to campaign in Colorado before returning to Nevada for a post-election party on Saturday night.
The Nevada caucuses opened at 11am eastern time and are scheduled to continue through to the early evening. It could be 11pm (ET) before the biggest county in Nevada releases its results, though the television networks are expected to call the result well before then.
A poll in the Las Vegas Review-Journal has Romney on 45%, Gingrich on 25%, Santorum on 11% and Paul 9%. Caucuses, unlike primaries, are notoriously difficult to poll, often failing to take account of organisation. Both Romney and Paul have had full-time staff and volunteers working in the state for months while Gingrich and Santorum only began organising over the last few weeks.
Romney's lead is likely to be magnified by the large Mormon population who in the 2008 election voted en masse for him. Although the improving employment figures may force Romney to change his campaign message, the candidate so far is sticking to his stump speech, telling a crowd of about 300 there is a need for a new president to get the US out of the present economic mess.
Gingrich, in one of his closing rallies on Friday, concentrated on Romney, insisting there is little difference between Romney and Obama. "It isn't good enough for the Republican Party to nominate 'Obama-lite'," he said.
Gingrich is hunting for votes among Tea Party groups, Catholics, Jews and rural voters. Speaking to about 1,000 at the International Church of Las Vegas on Friday, he said: "Obama declared war on the Catholic church. He requires Catholics to stop being Catholics in order to serve people. This is a direct war on freedom of religion."
The Las Vegas Review-Journal reported that Paul, who is appealing to libertarians and Tea Party supporters, made his final pitch at a gun store in Las Vegas, with the muffled sound of shots being fired in the background.
Paul finished second in Nevada in 2008 with 13.7% of the vote, with John McCain finishing 1% behind him. The 2008 race was distorted by the decision of McCain not to waste time campaigning in the state – whereas, this time around, Gingrich has at least been out and about in Nevada.
The resurgence of Romney after his defeat in the South Carolina primary on 21 January at the hands of Gingrich is attributed to a good debate performance. One of his backroom staff, who won plaudits for that in the media, was the debating coach, Brett O'Donnell. Politico reports that O'Donnell has not been offered a full-time job. The Romney campaign team at the time played down his role and may have been miffed at the amount of media attention he received, distracting credit from the candidate himself.
Source: http://www.guardian.co.uk/world/2012/feb/04/mitt-romney-nevada-primary-caucuses
Newt Gingrich sued for assult and battery:
A Florida man has filed a lawsuit against Newt Gingrich and his security team -- claiming he was roughed up outside the Florida Republican Presidential Primary earlier this week ... because he was carrying a sign supporting another candidate.

In a lawsuit filed yesterday in U.S. District court in Florida, Edward Dillard claims he was just minding his own business on January 31 when Newt and his wife came strolling up to the polling place. Dillard claims he was standing outside of a canopy which had been set up with a microphone stand, when Newt and Callista came right up to him and shook his hand.

Dillard claims Newt then noticed his Ron Paul t-shirt and "immediately turned his back" to him and went on to greet other people. That's when Dillard claims several of Gingrich's security team came up to him and tried to "intimidate him into moving from the spot."

Dillard -- who says he was wearing open-toed sandals -- then claims one of the agents "lifted his heeled shoe over Dillard's right foot and dug the back of it into his skin, twisting it side-to-side like he was stomping out a cigarette, causing a fracture to Dillard's right foot."

After a minor tussle, Dillard claims the guy who stomped his foot shouted to other members of his team, "Everyone step on his toes!"

Dillard is suing Newt, the campaign and the security firm for assault and battery and seeking unspecified damages.

No comment so far from Gingrich campaign.
Source: http://www.tmz.com/2012/02/04/newt-gingrich-lawsuit-assault-battery/#.Ty3chsWDsuc







My prediction threads:
Wii U will sell under 40m units (made on 14th September 2012)
PS Vita will sell under 20m units (made on 30th September 2012)
Wii U will sell under 7m in 2013 - I was right
Halo 4 first 9 weeks sales prediction