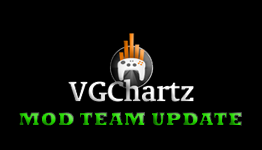 Hello everyone! So, throughout the past few months, we've had some changes to the mod team that we'd like to make you aware of.
First, I'd like to thank Raven for his services to the team. Although he has decided to move on to other things, I will always appreciate what he taught me, in addition to, his tendency to just want to get things done. We wish him well in his future endeavors and will lean on him from time-to-time as a continued advisor to the mods.
Next, Ryuu96 will be stepping down to Normal Mod for the foreseeable future. With a bit more limited time, he felt it best to head that way. We are excited to keep him around however and look forward to what comes next for him on the mod team.
And, last but certainly not least, I'd like to introduce you to your new Moderator:
MADWORD
Let's all congratulate and welcome Madword to his promotion as moderator. We felt that he would be a good fit in the position, so give him a nice welcome!
And that's it for now. We look forward to continuing to serve you and give back to the community we all love!
On behalf of The Mod Team!
CGI-Quality - Head Moderator
axumblade
Bristow9091
cycycychris
Hiku
Madword
Pemalite
PwerlvlAmy
the-pi-guy
Ryuu96
think-man
trasharmdsister12