How do you collect them all?
Kid Icarus: Uprising Comes with Six Random AR Cards
by Alex Culafi - February 7, 2012 - 6:19 P.M.
Total Comments: 3 Source: http://www.onlineplayer.jp/modules/topics/article.php?storyid=24571

It appears that the new 3DS title is coming packaged with yet another bonus.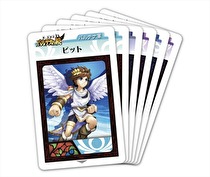 Kid Icarus: Uprising is coming packaged with six random augmented reality cards out of a currently unknown total when it launches on March 23.
Nintendo demonstrated at E3 2011 that the game uses AR cards to simulate fights between two characters, initiated when cards are placed directly against one another. Other cards feature various weapons and minor enemies. There is no word regarding other potential distribution methods.
The news follows the recent announcement that Kid Icarus would come bundled with a 3DS stand to keep the player's system steady while playing.