inFamous Review By Riderz13371
inFamous is the first game in the inFamous series and it is also the first game that Sucker Punch Studios has developed for the PlayStation 3. inFamous follows the story of Cole McGrath who is an ordinary bike messenger. One day he is told to deliver a package to the Historic District, but when he opens the package he finds the Ray Sphere which causes a huge explosion that causes massive destruction to the entire city. To make things worse, a plague develops afterwards and forces the government to shut down the city in an effort to stop the plague from spreading into other cities. Nobody gets in, nobody gets out. Cole realizes that the blast gave him electrical powers and while he is healing Empire City is slowly being taken over by reapers and people are turning on each other. Once Cole is fully healed he tasks himself with the job to find out who instructed him to deliver the package so that he can find out who did this to him.
The Gameplay of inFamous
inFamous is a third person open world action adventure game (that's a mouthful =P) that takes place in a fictitious city known as Empire City. The city is all torn apart and reapers, who are mercenaries that kill anyone that get in their way, have taken over. The gameplay is fun, however it sometimes feels very limited and some of the missions are somewhat repetitive. It is an open world game and you can choose to do either main story missions of side missions which, when completed, get rid of the Reapers in that specific area. The fact that you get to freely explore Empire City plus the Neon District and Historic District makes it a much more enjoyable experience. Rather than being forced to go to the next mission you get to choose what you want to do and when you want to do it, a feature that I feel most games of today lack. While I understand that some games require this "holding your hand" experience, I would much rather be left alone to do what I wish. Instead of forcing you to do a main story mission you can choose to complete side missions, help out civilians who have been kidnapped, heal injured civilians (or KILL!) etc. While this is nice it does get boring because the side missions are very repetitive. They usually go along the lines of you having to kill a reaper gang who have captured civilians or having to power up some sort of satellites that are located around a building. If you plan on getting the platinum trophy you have to do all the side missions, this can get very boring especially since you have to do it for 3 different districts. The combat of the game is something that I was not too fond of. I very rarely found myself getting close and personal because the hand to hand combat is poorly done. The majority of the time I abused the L1+R1 lightning bolt with the occasional sticky bomb being thrown at groups. I was very disappointed by the combat because I saw very little variety and felt as if every time I tried to punch my enemy, I was at a disadvantage because it took so long to kill them. Not to mention the fact that I could use my lightning bold to attack my enemies while going in and out of cover. While it is a good tactic to use, it was very boring and there was very little variation in the ways that you got to kill your enemies.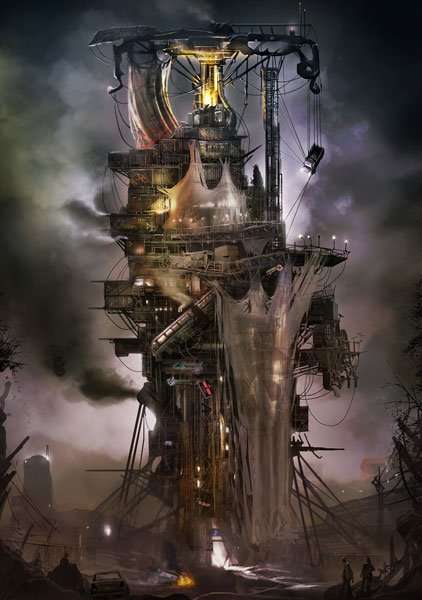 One element of the game I rarely enjoyed was the climbing. It just felt like I was bashing the X button until I got to the top. Rarely did I ever feel like I had to manoeuvre Cole so that he could grab a ledge and a railing that was hanging out of the side of a building. There are some exceptions such as Alden's tower. It was super fun to climb and I even had to do it again because I would sometimes fall off. It was the perfect combination of bashing the X button but also having its moments of having to perfectly manoeuvre Cole as well as having its breaks of climbing so that you can fight some enemies and possibly throw them off the platform so you can watch them fall to their death =P. Finally it had the epic boss battle at the end and then to top it all off you get to jump off at the end of the boss battle and cut scene. If you have played the game, you have to admit you got some sort of satisfaction from jumping at that height =P.
Gameplay - 7.5/10
The open world aspect of the game plus the destroyed environment was fun to play around with, but it quickly got boring due to the poor combat, repetitive missions and mediocre climbing system.
The Campaign Story and Length of inFamous
I have to say that the story of inFamous was one of the few campaigns where I was completely blind sided by the ending. I can often predict how a game will end and I can usually figure out who the "bad" guys is. It was so different with inFamous. Look at the Kevin Butler GIF in my signature...that's how I felt while watching the final cut scene of the game. I don't want to spoil anything for you but the main premise of the story is that you are trying to find out who gave you the Ray Sphere package to deliver as well as what the purpose the Ray Sphere serves. You come across John who was a former NSA (National Security Agency) agent who helped construct the Ray Sphere. He explains to Cole that the Ray Sphere consumes Bio-Energy from those around it and then it transfers the power to the person holding it. It grants the holder with super abilities while possibly killing thousands of innocent people. You then find out Kessler is the one who ordered you to deliver the package. For those who haven't played, this all occurs near the middle of the game so it's not much of a spoiler. You're going to want to play it to the end to find out the true identity of Kessler. Not to mention this game came out in 2009, if you haven't played it yet I doubt you'll play it now.
Another added bonus for the campaign is that you get to decide your characters journey. You can choose to be the one who helps out civilians while taking out reapers (Good Karma) or the one who attacks civilians while Bio-Leeching everyone for your own benefit (Bad Karma). It is an added bonus because nowadays you are forced to always be the good guy and you have no choice but to help people...it's not like that in inFamous =P. The ending isn't as drastic of a change when compared to the inFamous 2 Good Karma and Bad Karma ending but it's still worth it to play through the campaign twice so you can enjoy the full experience. This increases the length of the campaign as well as the fact that you should (optional) complete all the side missions. I would say that playing on hard difficult and beating both the Good and Bad Karma campaigns while also beating all the side missions, the game should last you a good 20+ hours.
Campaign Story + Length - 9.5
The completely unexpected ending not only causes you to go "WTF", but it also results in you highly anticipating the sequel, inFamous 2.
The Graphics of inFamous
I have to be honest. I can't really show you a picture or let you watch a video of inFamous that will make you go "WOW" when it comes to the graphics of the game. I understand that it is an open world game and it might be a little harder to make it look amazing because of the large enviornment you get to explore. Also, take into account that this game was made in 2009 so I am not comparing it to the 2012 graphical behemoths such as Halo 4 or the upcoming titles such as the Last of Us. With that said, it still is somewhat disappointing even for a 2009 game. Games such as Uncharted 2 came out in 2009 and they looked much better. Now I will cut Sucker Punch some slack considering it was their first PS3 game so I'm guessing they were still getting used to developing for a new system. I can assure you the sequel, inFamous 2, looks infinitely better. One thing I did enjoy about the graphics was the way Sucker Punch was able to create such a broken and depressing City. Looking around Empire City, I felt as if everyone was in a bad mood. The city had just been hit by a huge explosion and they were all locked in because of the plague. You could really feel the dark tone the game was going for and I do applaud Sucker Punch in being able to achieve such a depressed city feel.
One thing I noticed about the graphics is that they did a very good job with things such as texture pop ins as well as not having buildings randomly appear as you got close to them. What I mean by that is if a building is far off into the distance and you can't see it, sometimes in games you would walk closer and closer towards that building and then it would somehow automatically appear out of thin air. Then as you got closer you could notice the game loading the textures of the building. I have to say that I never experienced any sort of issue like this during play through of the game. One last thing I would like to add is I love the cut scenes of both the inFamous games. I appreciate that Sucker Punch decided to make it feel as if you're reading through a comic book while having the voice over of the character. It really makes you feel as if you are reading a comic book that is about Cole McGrath as if he is a super hero (or villain) and the artists did a spectacular job.
Graphics - 7/10
Decent for a 2009 open world game, but nothing to brag about.
Overall Impressions of inFamous
inFamous is an awesome new take on the super hero type games. It adds the open world aspect to it as well as giving you the option to be a villain instead of the hero. Of course your intentions are still the same throughout the game no matter what Karma you choose to go with but it's still nice to see how civilians react towards your character when he's the good or bad guy as well as the awesome red or blue lightning that surrounds Cole's body depending on what Karma you choose. Sucker Punch's first go at a PS3 game is a satisfying experience in terms of story telling but it could have been better in the graphics and gameplay department.
Gameplay - 7.5/10
Campaign Story & Length - 9.5/10
Graphics - 7/10
Overall - 8/10
Check out my inFamous 2 review - http://gamrconnect.vgchartz.com/thread.php?id=152605
Check out other peoples reviews in the review database - http://gamrconnect.vgchartz.com/thread.php?id=151968&page=1