This past Easter I went to visit my family in Sweden and I obviously took my Switch with me. The eldest nephew had been super hyped with the Switch, ever more so when he heard I bought one, and all he would think about was Zelda this and that.
After a few days of him binging on BotW plus some multiplayer Snipperclips on the side, others wanted a go with something partier. Even though I was reluctant on the game, I suggested they could try 1-2 Switch since I was curious about the HD rumble. And on a spur of the moment it was bought digitally.
The title offers 28 mini-games that go by quickly and thus content feels a tad short, specially when you take into account the price of the title. But the Team match mode brought in a competitive variation we were looking for.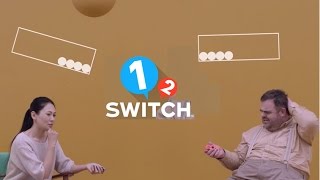 No wonder they scratch their heads, I found myself doing the same thing
Nevertheless the main feature I was interested in was that HD rumble and the first experience with Count Balls wasn't as realistic as I hoped. I could only feel two different stages when the balls hit the sides or while sliding. I didn't feel like tilting influenced the position of the balls individually but as a group. In some others such as Shaver or Safe Cracker it felt like variations on vibrations. While fighting ones such as Wizard and Sword Fight I can't remember if it had vibrations or it was sound based. The filthiest ones such as Milk and Soda Shake worked surprisingly well. This last one was pretty good, you could really feel as if the bubbles were building up and pressure was increasing xD

Big hit mini-games were Quick Draw, Telephone and Soda Shake (in which 3 year olds could also play)
The game lets you experience rumble during the demo clip, so you get to feel the vibrations before hand. They should have uploaded that to the eShop so we could have felt the HD rumble fussle, but obviously Nintendo just wants you to purchase it fully.
In the end, I was expecting more refined rumble after it was overblown so much, a bit of a let down, but you can feel distinct vibrations in some cases more than others.
What about your HD rumble experience?