Nintendo has progressively made luigi lamer and more of a pussy. (Which is funny if you go back and wath the Super Mario Bros. Super Show)
He is always scared, crying for mario. He gets like 3 stars in sunshine and says "Whoo I'm beat, you have to find the rest"
Spoiler still maybe?
Then when you change to luigi, almost everyone still calls you mario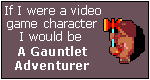 I am a Gauntlet Adventurer.

I strive to improve my living conditions by hoarding gold, food, and sometimes keys and potions. I love adventure, fighting, and particularly winning - especially when there's a prize at stake. I occasionally get lost inside buildings and can't find the exit. I need food badly. What Video Game Character Are You?
Mega Man 9 Challenges: 74%
| | | | | |
| --- | --- | --- | --- | --- |
| Waltz | Tango | Jitterbug | Bust a move | Headbanging |
| Bunny Hop | Mr. Trigger Happy | Double Trouble | Mr. Perfect | Invincible |
| Almost Invincible | No Coffee Break | Air Shoes | Mega Diet | Encore |
| Peacekeeper | Conservationist | Farewell To Arms | Gamer's Day | Daily Dose |
| Whomp Wiley! | Truly Addicted! | Truly Hardcore! | Conqueror | Vanquisher |
| Destroyer | World Warrior | Trusty Sidearm | Pack Rat | Valued Customer |
| Shop A Holic | Last Man Standing | Survivor | Hard Rock | Heavy Metal |
| Speed Metal | Fantastic 9 | Fully Unloaded | Blue Bomber | Eco Fighter |
| Marathon Fight | Quick Draw G | Quick Draw C | Quick Draw S | Quick Draw H |
| Quick Draw J | Quick Draw P | Quick Draw T | Quick Draw M | Quick Draw X |