Mark Rein is the Vice President and Co Founder of EPIC games and recently on his twitter, he posted a count-down to the PS4 midnight launch, seemed reasonable enough, but then Geoff Keighley announced a GTTV that would be announcing a ton of new PS4 games at the midnight launch and this tied into Mark Rein's previous Tweet and the exact same time. Not to mention Mark Rein "Retweeted" Geoff's Tweet about the GTTV Show and I checked his previous Tweets, he never Retweeted any of Geoff's Tweets about GTTV in the past, how very interesting. Now this doesn't mean EPIC's next game will be a PS4 exclusive, but it's a possibility, considering the fact that Phil Spencer confirmed EPIC aren't working with Microsoft in Podcast Unlocked. Could we see Gears of War 4 on a Playstation platform? That would cause a massive sh*tstorm on the Internet, I can see NeoGaf exploding now, but I'd love to see a New IP, but as far as I know, I'm excited and I cannot wait for the PS4 midnight launch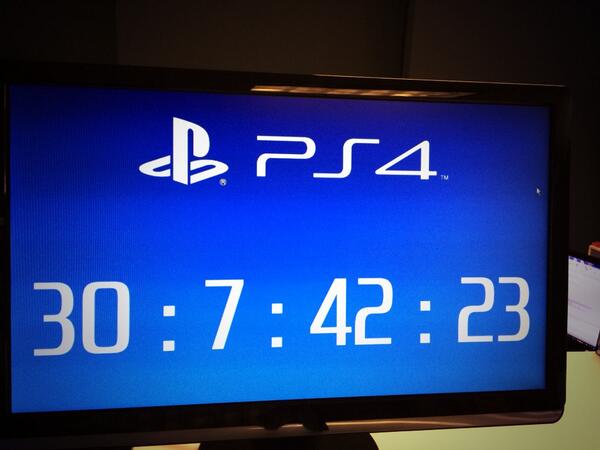 whats up with the second picture you asked? well that second picture wasnt posted by Mark Rein. it was posted by Adam boys. https://twitter.com/amboyes/status/390255247861350400/photo/1
exact same tv, exact same room. (look at the background)
update: as Sceece pointed out, Phil Spencer has said that MS and epic are not working on a new gears of war for now. so could this game be a new ip? hope so!
PS: im not really sure that Phil Spencer confirmed that they werent working with Epic in podcast unlocked, can anyone confirm this? i didnt write that paragraph btw. here is the source : http://n4g.com/news/1385509/rumor-epics-new-game-to-be-revealed-at-the-ps4-midnight-launch
Bet With Zero: He says WiiU and XB1 gap will be higher than 1.9M by end of 2014, i say it will grow smaller or vanish.
Bet with Pezus: i win if Watch dogs sells more on PS3+360 than on next gen PS4 + Xbox One. winner gets 1 month sig control
Bet With JoeTheBro: He says WiiU in Jan 2013 > XB1 Jan 2014, i say the opposite.