Approved by Leadified and Veknoid_outcast!
Welcome back to the Pokemon Olympic Games, for today we'll have our second marathon and our final Aerial race event the Aerial Marathon! In this event the Pokemon will have to fly from one region to the next in one go with no chance to rest meaning being able to pace themself and having great endurance. Speed is also another factor that is very important, however before we get into the contestants for this events, let's take a look at the results for the previous race the Run Marathon!
Event #4: http://gamrconnect.vgchartz.com/thread.php?id=207060&page=1#
Event #4 Results: http://gamrconnect.vgchartz.com/post.php?id=7481287
Overall Individual Results: http://gamrconnect.vgchartz.com/post.php?id=7456846
This competition has 12 competitors, works very much like the Best user competition where each position will be given points and the one with the most over all will win. Here is an example of how you will vote this competition:
12p Squirtle
11p Treecko
10p Chimchar
All the way down until 1 point. These places represent who you think will place first with the one you think will win getting 12 points with the one you think would lose getting 1 and every placement in between. Unlike the Sprint, the Marathon lasts 48 hours and every user can vote once every 24 hours. In other words, You can vote twice this round.
Now that the rules have been explained we will now introduce the Pokemon that were selected to represent their generation!
Representing Generation 1 - Kanto, we have: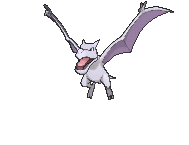 Aerodactyl and

Dragonite!
Representing Generation 2 - Johto, we have:

Crobat and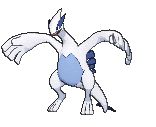 Lugia!
Representing Generation 3 - Hoenn, we have:

Flygon and

Salamence
Representing Generation 4 - Sinnoh, we have: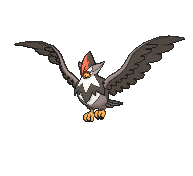 Staraptor and

Gliscor!
Representing Generation 5 - Unova, we have: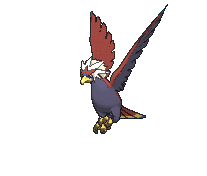 Braviary and

Hydreigon!
Representing Generation 6 - Kalos, we have: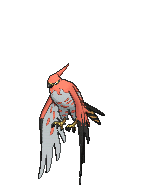 Talonflame and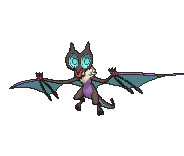 Noivern!
This Marathon will last 48 hours and will allow each user to vote once every 24 hours meaning each user has a chance to vote twice in this competition.
Comentators: The second and final individual flying event is finally upon us and this one is looking to be very interesting. Generation one has brought out dragonite one of their more powerful pokemon with great endurance and his speed isn't bad at all, Aerodactyl also looks to be a strong competitor as well. Generation 2 has brought back their gold medalist and Crobat. Both are strong fliers and crobat has been known to fly with two of its wings and then switch the the next set when those are tired. Generation 3 has brought in flygon which is a very fast flier and has pretty good endurance, they've also brought in Salamence who should do well. Generation 4 has brought in Staraptor and Gliscor, Gliscor might be able to glide his way to victory but his overall speed could be an issue, and Staraptor is a powerful flying all arounder but does he have the endurance and speed to match the compeititon? Generation 5 has brought in two endurance Junkies however will their lack of speed could be troublesome in the end. Finally Generation 6 has brought in Talonflame and Noivern. Both are fast Pokemon however I'm pretty sure endurance isn't one Talonflame's strong suit so we'll see if his speed is enough to do well. Each team has sent in strong fliers so we'll just have to wait and see how this event turns out!
Ready, Set, Bang!