Update: The show is over. I have included the highlights.
Announcements: Elite Dangerous to make its Console Debute on the Xbox One

"

Announcing a partnership to release Elite: Dangerous on Xbox this summer.

It's a spaceflight sim that's going to be making its console debut on the Xbox One."

"

Microsoft wants games to be the biggest category on the Windows Store going forward....

Right now, the Windows 8 store isn't driving a lot of revenue.

"

Basically we are looking at the current windows 8/windows mobile setup expande to include 10/Xbox One.

"They will allow developers the option for cross-buy and cross-play for Xbox One/Windows 10"

"

Over the next 12 months, there's going to be a staged rollout of all the Xbox Live features to various endpoints."

Unreal Tournament being streamed using DX12.
Youtube version: Removed (will look for a replacement)

"

DirectX 12 also brings big performance improvements across both CPU and GPU. Up to 50 percent CPU usage improvements."

Direct X 12 provides 20% GPU boost only applies to the PC (Confirmed by Microsoft). Phil has said we won't see a difference on Xbox One, and he never mentioned the boost applied to the Xbox One platform.
Update 2: The 20% boost has been confirmed to be for the PC.
"DirectX 12: DirectX 12 enables PC developers to have a new level of power and control and is a single API developers can access across Windows devices. As shown with Fable Legends running on Unreal Engine 4, there has been a 20% improvement in performance. And as announced today, Epic is creating Unreal Tournament using Unreal Engine 4 running on DirectX 12, which sets a new bar for visual fidelity in PC gaming."


Source:

http://news.xbox.com/2015/03/xbox-gdc-2015



Update: Due to a misunderstanding caused by an interruption in the livestream, the original article mentioned that the 20% GPU improvement was on Xbox One, but Spencer did not actually explicitly mention a platform.

"We may be seeing a return of Battletoads"

Optional shared saves between Xbox One/Windows 10 announced

Gigantic (Moba) announced for Xbox One and Windows 10:
Watch trailer: https://www.youtube.com/watch?v=IJCAKJ9fz4I#t=33



Wireless Controller will be coming to PC

Shovel Knights to include appearance from Battletoads
Source: http://www.geekwire.com/2015/live-from-gdc-microsofts-phil-spencer-on-windows-10-and-the-future-of-games/
Watch the event: http://meerkatapp.co/geoffkeighley/27461bee-aa7f-4500-bc23-4bdb0c73c499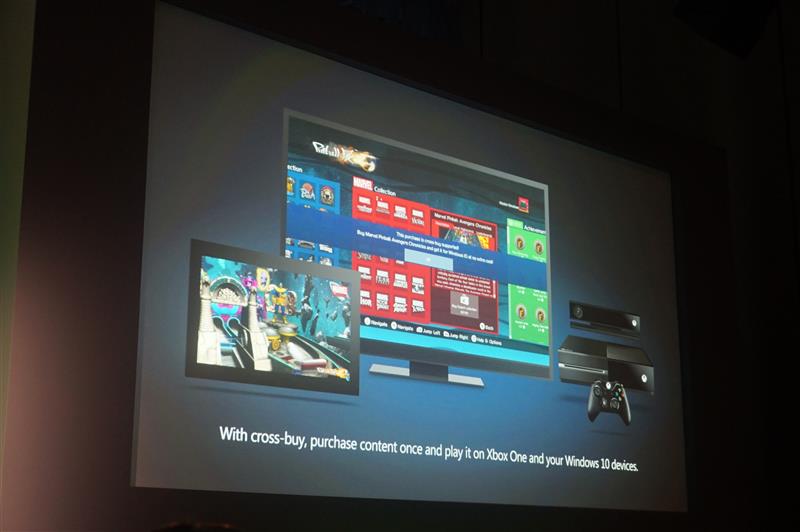 How are the next-gen consoles trending on social media? Why are they popular? Join Social Media Monthly to find out what everyone is talking about!
"And everyone's Kickstarter has merit." - Malory Archer