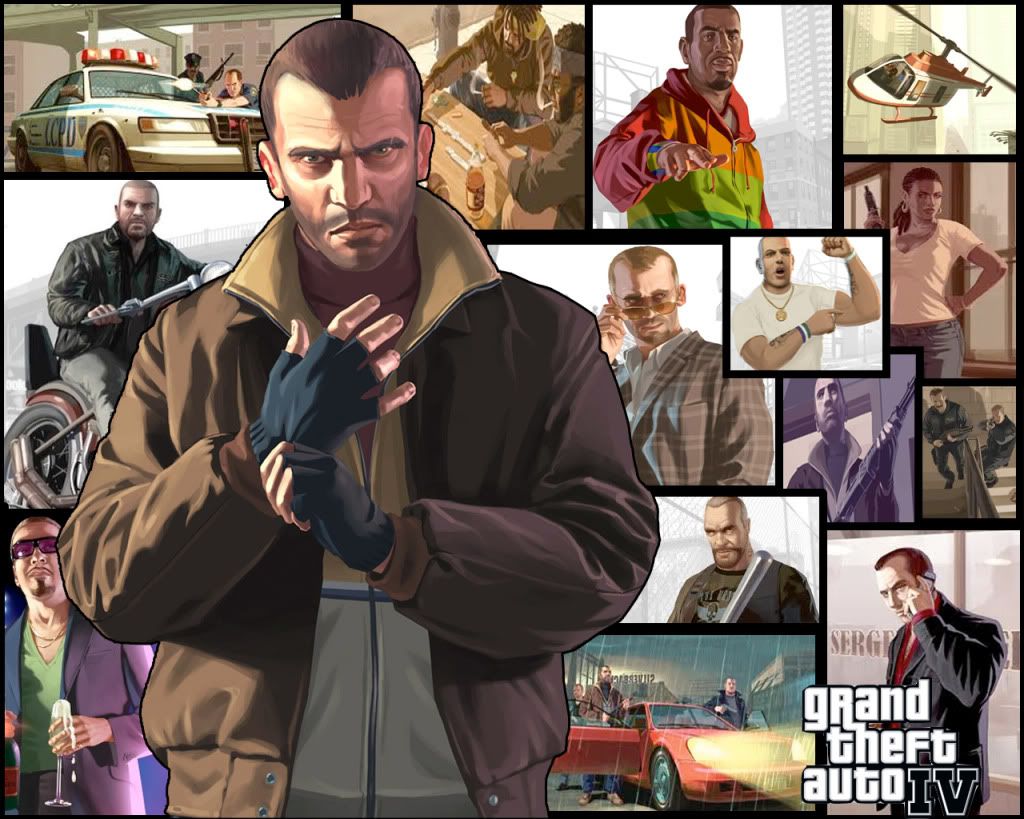 It was another stormy and violent day in the worst city in America, Liberty City. Niko Bellic and his cousin Roman just came home from bowling.
"Hey Roman, how come all you want to do is bowl?"
"Because Niko, I can no longer go to the sexy women clubs because of my girlfriend Mallorie!"

"That didn't stop you last week Roman."
"Well Niko, today is our one year anniversary, and I got her a nice ring. Soon I will propose!"
"Yeah, I'm sure."
Niko had opened the door, which strangely was unlocked, and Weazel News was on with some stupid report of the cops blocking Liberty City's bridges again. Usually Roman's girlfriend Mallorie would be sitting there, but she was not. There were marks of blood on the couch and a note, with a picture of Mallorie gagged with a gun to her head. The note said:
"Dear Niko Bellic,
We believe you have stolen our diamonds and we will not stand for another one of your thefts. You have one week to return them, or we kill your fat cousin's girlfriend. Have a nice day in hell..."
Niko was outraged, he knew that him and Roman had nothing to do with these missing diamonds.
"Cousin, what can we do??? My girlfriend is kidnapped and we're going to be killed by some gangsters!" said Roman
"Call Elizabetha, tell her to get all the people we can to catch these sons of a -------s!"
Within the hour, 13 members of the Liberty City's underground had gathered at Elizabetha's home. Each of then had proclaimed their innocence, but Niko was not convinced. Knowing that the bridges were blocked, Niko began his search for the kidnappers on a search and destroy mission with his cousin Roman. Niko is going to need some help from his friends, and some enemies, to find who could have kidnapped his cousin's girlfriend.
Player/Day

DAY 1
DAY 2
DAY 3
DAY 4
DAY 5
DAY 6
Role
Stefl
Zarx
No Vote/No lynch
Linkz

NotStan

Roman Bellic: Modkill


Pro-Town Sidekick

Linkzmax

Lynch: Bernie Crane

Zarx
Final-Fan
Protown Lover

Final-Fan

Lynch: Jimmy Pegorino


No vote/No lynch

Heph
Mafia role blocker

TruckOSaurus

Brucie Kibbutz: Incapacitated


Zarx
Town Psychopath

Vetteman94
Zarx
Final-Fan
Linkz

Heph

Little Jacob: Incapacitated

Stefl
Final-Fan
Town Tracker
Wonk

Pro-Town Voteless Treestump

Silver-Tiger

Lynch: Gay Tony

Zarx
Heph
Linkz

Pro-Town Lover

Zarx

Playboy X: Lynch


No Lynch


Vanilla Townie

GodofWar_3
Zarx
Heph
Linkz

Wildvine53

Dimitri: Modkill


Mafia 50% Hider

TheProf00

Johnny Klebitz: Incapacitated

No Vote/No Lynch

Final-Fan
3rd Party Survivor
DAY ONE-START!
| | | |
| --- | --- | --- |
| 19:44:34 | Skeezer | METAL GEAR ONLINE |
| 19:44:36 | Skeezer | FAILURE |
| 19:44:51 | ABadClown | You're right! |
| 19:44:55 | ABadClown | Hur hur hur |
| 19:45:01 | Skeezer | i meant |
| 19:45:04 | Skeezer | YOU ARE A FAILKURE |
| 19:45:08 | Skeezer | FAILURE* |