noshten said:
Agente42 said: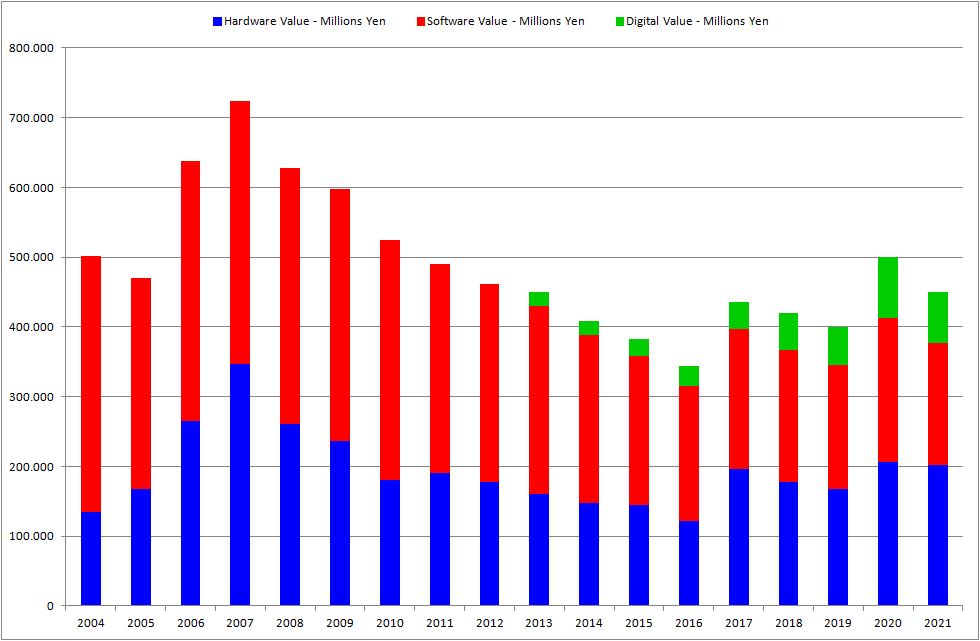 The Market decreased when Sony "dominated" Japanese market, last year has decreased a little, but is bigger than dark years (2013 -2016). Digital estimates for white book I don´t remember are accurate.
Switch will decline in an year when we are yet to see... Splatoon 3 & Scarlet / Violet ? I nearly fell out of my seat reading that
Currently Switch Top 50 is not far from last year's result and last year had ... check's notes ... Brilliant Diamond / Shining Pearl & Super Mario Party Superstars as the only major fall games and both of these will be outsold by Splatoon 3 alone
The only reason this year is behind last year's results so far is because Momotaro fever, last year was exceptional performance for Konami IP, it ended up being one of the strongest post holiday results we have seen for a fall game
It's pretty clear that 2022 will end up either as high as 2020 or higher at this point in terms of Software - besides the two games I've mentioned there is also a ton of third party support and you never know when a third party game might have it's break-out moment. There is also Xenoblade 3 which is by all accounts expected to breeze past 500K
Honestly people need to stop underestimating the impact this will also have on hardware demand. Two titles that are selling 3.5M+ this year alone will cause this fairly easily for the tail end of the year and we might hit 5M+ hardware yet again - easily the strongest fall line-up we've seen by Nintendo since the launch of the Switch thats likely to cause huge demand in the holidays. Software causes Hardware demand there is not two ways about it
Finally, there is the overlooked fact that this year over 50% of all sales of hardware are OLED while Lite has declined by over 50%. This means that hardware revenue value will go up as well on top of everything I already mentioned - last year OLED sold like 865K for the entire year this year we are already at 1254K and its likely it will end up between 2.5M & 3M. Meanwhile Lite sales are down so far this year with 395K sales so far compared to 832K same time last year.
End of day people continue to talk about this decline but we are not going to see it in 2022 and that is 100% certain - in fact it might be the 2nd best result on the graph you've provided
Agree with you. In 2020 Animal Crossing is a behemoth, and 2021 have low software sale in Q4
Last edited by Agente42 - on 26 July 2022