EPIC: SKELETOR DRINKS MUMM-RA'S ASHES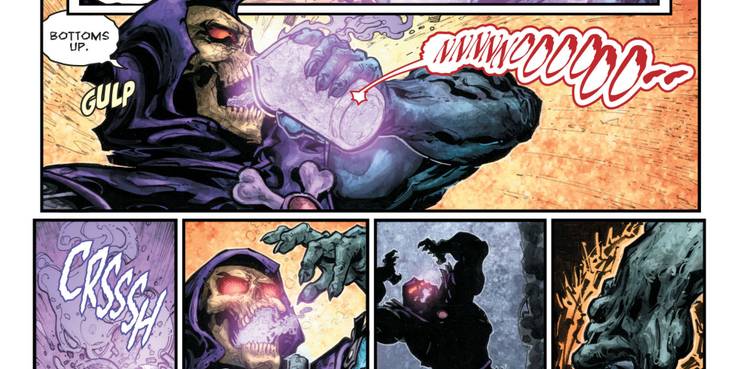 Upon the delivery of the Sword of Power, the Ancient Spirits of Evil tell Skeletor to do with Mumm-Ra as he pleases. Naturally, doing what every good villain does, he incinerates Mumm-Ra leaving only his helmet and a pile of ashes. That isn't the end of Mumm-Ra though. Skeletor recognizes that, despite being dead, Mumm-Ra's remains are a significant source of power.
Skeletor gets to work, pouring the remains into test tubes. Mumm-Ra speaks to Skeletor and informs him that as long as evil exists, so will Mumm-Ra. A quick cast of a spell and stir of Mumm-Ra potion later and Skeletor chugs the evil-infused Gatorade much to the protest of Mumm-Ra's disembodied voice. Skeletor goes on to reveal that without Mumm-Ra's power, the Power of Grayskull would kill anyone it entered that wasn't worthy, or in this case, ever-living.
From:
10 Reasons The He-Man/ThunderCats Crossover Is EPIC (And 5 It SUCKS)
https://www.cbr.com/10-reasons-the-he-manthundercats-crossover-is-epic-and-5-it-sucks/