Tick

Hyrule Castle (3)
Eastern Palace (7)
Desert Palace (12)
Tower of Hera (8)
Palace of Darkness (5)
Water Gate Dungeon (11)
Skull Woods Palace (5)
Blind's Dungeon (2)
Ice Palace (7)
Misery Mire Palace (12)
Turtle Rock (6)
Ganon's Tower (8)

Previous Winners:

Legend Of Zelda: Level 3 - Manji
Adventure Of Link: Island Palace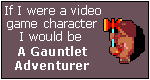 I am a Gauntlet Adventurer.

I strive to improve my living conditions by hoarding gold, food, and sometimes keys and potions. I love adventure, fighting, and particularly winning - especially when there's a prize at stake. I occasionally get lost inside buildings and can't find the exit. I need food badly. What Video Game Character Are You?
Mega Man 9 Challenges: 74%
| | | | | |
| --- | --- | --- | --- | --- |
| Waltz | Tango | Jitterbug | Bust a move | Headbanging |
| Bunny Hop | Mr. Trigger Happy | Double Trouble | Mr. Perfect | Invincible |
| Almost Invincible | No Coffee Break | Air Shoes | Mega Diet | Encore |
| Peacekeeper | Conservationist | Farewell To Arms | Gamer's Day | Daily Dose |
| Whomp Wiley! | Truly Addicted! | Truly Hardcore! | Conqueror | Vanquisher |
| Destroyer | World Warrior | Trusty Sidearm | Pack Rat | Valued Customer |
| Shop A Holic | Last Man Standing | Survivor | Hard Rock | Heavy Metal |
| Speed Metal | Fantastic 9 | Fully Unloaded | Blue Bomber | Eco Fighter |
| Marathon Fight | Quick Draw G | Quick Draw C | Quick Draw S | Quick Draw H |
| Quick Draw J | Quick Draw P | Quick Draw T | Quick Draw M | Quick Draw X |